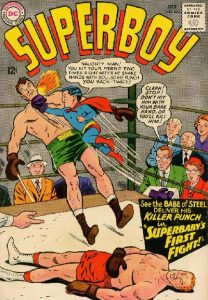 From October, 1965, another three-story issue, this one featuring:
"The Insect Queen of Smallville" – Superboy's girlfriend, Lana Lang, becomes a super-hero! Now, it's important to understand that, if you're Kal-El / Clark Kent and it's not yet 1970, "girlfriend" is another word for "arch-nemesis." Like Lois Lane in his adult life, Lana exists at this point only to try and prove that mild-mannered Clark Kent is actually the last son of Krypton. Also like Lois, she's really bad at the job, and similarly obsessed with it.
This time out, Lana happens upon a spaceman in the woods, as teenage girls in small towns in the Midwest were wont to do back in the day. Said spaceman (now we would say "extraterrestrial," but this was literally a little, green man.) She frees him from beneath a fallen tree. In gratitude, he gives her a ring which allows her to assume the powers of any insect.