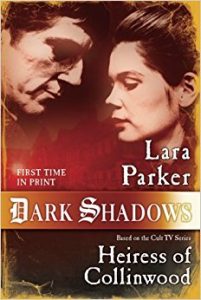 "Our revels now are ended…"
That quote, from The Tempest, Act 4, Scene 1, is familiar to most, if not all, fans of Dark Shadows. In the late 1960s and early 1970s, when there were no VCRs or DVRs and you could only watch a show once, and that when the TV station decided to play it, many fans of the Gothic soap opera listened ad nauseum to the show's soundtrack LP. It featured music from the show, with narrations over a lot of it by Jonathan Frid and David Selby, the two most prominent stars. The last track on the album is Jonathan Frid reading Prospero's soliloquy from The Tempest about actors and dreams. It's a moody piece, and a fitting capstone to, well, pretty much anything.
Lara Parker ends her novel with the last sentence: "We are such stuff as dreams are made on, and our little life is rounded with a sleep."
It's fitting, because, sadly, this very much has the feel of a last novel. Parker has written four novels based on the series in which she once played the beautiful and vengeful witch, Angelique. The first, Angelique's Descent, was a pretty straight retelling of the life and trials of her character. The second two, The Salem Branch and Wolf Moon Rising, were more complex, involving time travel and reincarnation. When all was said and done, Angelique was reincarnated as the teenaged Jacqueline Harpignies, living at Collinwood, happily paired off with David Collins, heir to the Collins fortune. (Longtime fans will spot this as one of several inconsistencies in the third book—the idea that David, not the son of the owner of Collinwood, would inherit, instead of his cousin Carolyn, the elder and the actual daughter of Elizabeth Collins Stoddard, the mistress of Collinwood.)
The fourth book takes the series back to its roots. Dark Shadows began, not as a tale of vampires, witches and werewolves, but as a riff on Jane Eyre, in which a young orphan girl comes to serve as governess to a rich family, only to encounter mysteries and secrets both romantic and horrific. Victoria Winters was the star of the series, although top billing went to honest-to-gosh movie star Joan Bennett as Elizabeth. It was hinted repeatedly that Victoria was Elizabeth's daughter, and, indeed, series developer Art Wallace intended for her to be. But the series took a different turn, the vampires and associates took over, and Victoria literally disappeared, as in was pulled back into time on the day of her wedding.
In "Heiress," Victoria inexplicably returns from the past, takes a job as a TV anchor in Bangor, Maine, and then is summoned back to Collinwood by an attorney she's never met. It's bit jarring, to a longtime fan, that Parker tells the reader that Victoria left Collinwood to become a TV anchor before she vanished into the past and married Peter Bradford. That never happened in the series.
Many things that happen in the story are never explained. Victoria arrives at Collinwood to find it deserted. She finds the kitchen overrun by opossum, and a dead body at the kitchen table which appears to be an old friend. But when the old friend shows up later, even though it's explained that the body could have belonged to someone else, it's never explained why Victoria saw a body and then it was gone. Or why the opossum were there one minute, trashing the kitchen, then gone the next, with the kitchen spotless, and then came back that night to eat her dinner out of the refrigerator.
Inconsistencies with previous books are jarring as well. David's girlfriend Jackie is inexplicably now called "Miranda." I mean, she's Angelique, and Miranda was one of Angelique's names in a past life, but… Huh? Angelique is there as well, alongside Miranda, and having been living near Collinwood for sometime. But… Isn't Jackie/Miranda… Angelique? Also, Dr. Julia Hoffman, the woman with the unrequited love for Barnabas Collins, is absent from this book. Considering that Parker had spent two previous books developing a pretty involved story of Barnabas's betrayal of Julia and Julia's promise of revenge, it seems odd that she's just not mentioned. It's an oddness that also suggests to me that Parker was rushing to complete one last novel, rather than finishing the story she had started.
I frequently wonder if editors at the Big Six publishers in New York actually do edit any more. I'm assured, on panels at cons, that, oh yes, editing is a crucial part of the process. But then I read a published book like this, loaded with inconsistencies, and I just… wonder.
Despite all this, Parker has written an entertaining story, wonderfully evocative of the early days of Dark Shadows, which offers a satisfying resolution to the mystery of Victoria Winters's origins. The over-the-top conspiracy in which she becomes involved, in which an Austrian scientist tries to drain her life force to restore life to his wife, is right in keeping with some of the show's more bizarre storylines, and will remind hardcore fans of the formulaic tie-in novels of Dan "Marilyn" Ross, of which 32 were published during and after the run of the series.
(Visited 371 times, 1 visits today)