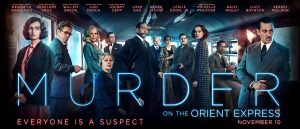 I wasn't sure what to expect from this film, going in. I remembered the 1974 film coming out—probably from commercials and buzz on morning news programs. I remembered that one was an all-star "vehicle" (pardon the pun) of the type that was so popular in the 1970s. I never cared much for such films, when I was little. They seemed designed to appeal to boring people who drank martinis, talked about Nixon and watched too much football.
Kenneth Branagh's film is, too, an all-star vehicle, with no less than the director himself, Michelle Pfeiffer, Willem Dafoe, Johnny Depp, Josh Gad, Derek Jacobi and Dame Judi Dench in its cast. And, admittedly, some of the crowd around me in the theater struck me as being martini drinkers who talked about Trump and watched too much football. But I found myself delighted with this film.
I love railroad stories, for one thing. And this one does for rail travel what the first hour of Cameron's Titanic did for luxury cruise ships. I also love the music of Patrick Doyle, and just about any film starring Dame Judi. But beyond that, having never seen or read a Hercule Poirot mystery, I was taken with Branagh's creation of the character onscreen. Poor Poirot, an OCD detective long before Adrian Monk came to TV to amuse us, who admits that his obsession with order make his life miserable, but makes him a great detective, really pulled me into the story.
The moral quandary of the plot is one that is relevant to this day—the morality of taking a life—and Poirot's emotional torture as he wrestles with it is moving. Although all the cast shine, the film also offers what is probably Michelle Pfeiffer's greatest performance. It's a lot heavier story than I was expecting from Agatha Christie, whose work I knew only from And Then There Were None.
(Visited 25 times, 1 visits today)