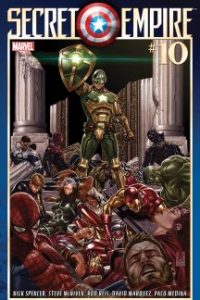 This was a terrible let-down. The series was mildly interesting, but, ultimately, the problem with the Hydra Cap story is not that it made Cap a fascist, it's that it was the setup for a thinly veiled anti-Trump rant. A poor successor to the real Secret Empire story, and a cheap excuse for Big Damn Deaths of the Year. It's odd, because I understand Nick Spencer is not particularly leftist, but the "stand and fight fascism" mantra that permeates the final battle, laced with all the talk about how "we let this happen," and how half the people supported Hydra Cap, can't really come off as anything else but a blatant partisan statement.
Steve Engelhart's first "Secret Empire" storyline, 40 years gone, was not an anti-Nixon rant or an anti-Republican rant, much as Englehart probably disapproved of both. That story was about secrecy and lack of transparency in government as a concept. A much subtler, much less divisive tale. The original was also groundbreaking, and this new one is not. There's nothing wrong with not being groundbreaking, assuming that you're not pushing your product as an earth-shaking "event" series.
Definitely, in the end, not worth the interruptions of good storylines in many other comics this summer. I found most of those tie-ins very disappointing as well.
(Visited 20 times, 1 visits today)