Please note that the deadline date below is accurate! The contest ended 36 years ago. Sorry!
Art by Russell Volker, Sr.
BELOW YOU WILL FIND A SIMPLE STORY EXTRACT, CONCEIVED IN THE FIENDISH MINDS OF THE EDITORS WITH NO FOREHOUGHT. WE CHALLENGE YOU TO SHARPEN YOUR WITS AND YOUR PENCILS: BUILD A STORY AROUND THIS INTRIGUING SCENE AND SEND US THE RESULT. NEXT ISSUE WE WILL PUBLISH THE BEST WE RECEIVE.
CONTEST RULES:
BE AS BRIEF AS POSSIBLE (NO MORE THAN 5 PAGES, SINGLE SPACED) AND TIE IN ALL THE DETAILS IN THE SCENE.
THE SCENE ITSELF MUST BE PART OF YOUR STORY – BEGINNING, MIDDLE OR END IS UP TO YOU.
WINNERS WILL BE CHOSEN ON THE BASIS OF ORIGINALITY, CLARITY, AND ADHERENCE TO THE THEME OF THIS FANZINE.
DEADLINE DATE FOR SUBMISSIONS IS FEB. 15, 1976. GOOD LUCK!
Kirk backed out into the corridor. He knew he was trembling; he willed his legs to steady him. A gentle hand touched him on the shoulder and a familiar voice spoke the word, "Captain." Kirk turned to meet the piercing eyes of his First Officer. Pleadingly, he beseeched, "You saw, Spock?"
Spock nodded. "Yes. It is time."
Kirk fought off a rising panic. His hands felt as cold and clammy as the walls around him. He forced himself not to think, to concentrate on his breathing.
Spock lowered his eyes. For an instant he gripped the Captain's shoulder tightly, then he removed his hand. His voice was steady, quiet as he spoke.
"Jim—I'm sorry. I didn't…" He couldn't go on.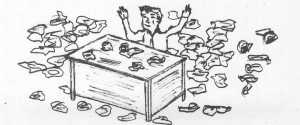 (Visited 26 times, 1 visits today)