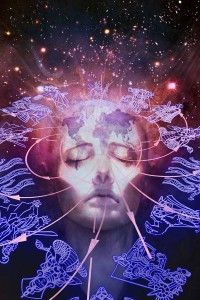 Scheduled for a late May release is ReDeus: Beyond Borders, the second volume in a series created by Bob Greenberger, Paul Kupperberg and Aaron Rosenberg. The gods are back and ready to be worshiped, but is humanity ready for them? This time out, our team of authors left the United States behind to visit the homelands of the many pantheons from around the world.
In the last volume, I told how the Norse God Bragi came to mentor a desperate musician who was down and out as a result of the fall of YouTube. This time, I chose to take my young rock star, Axel Sage, to Sweden, where Odin and the Aesir are assembling a new brotherhood of Vikings and a new sisterhood of Valkyries. The Aesir are probably the most techno-friendly of the gods, so they've embraced reality TV. Their new followers are recruited on the twin series Who Wants to Be a Viking? and Who Wants to Be a Valkyrie? Axel lands right in the thick of it, falling for a beautiful warrior maiden. Trouble is, a Valkyrie's hand goes to the warrior who's willing to fight for her, and Loki has a champion in the wings.
This volume will also feature the work of veterans Lawrence M. Schoen, Scott Pearson, Dave Galanter, Phil Giunta, William Leisner, and Allyn Gibson, plus new ReDeus authors Kelly Meding, Janna Silverstein, David McDonald, Steve Lyons, and Lorraine Anderson. And, of course, creators Aaron, Paul, and Bob will all have stories as well. The cover art above is by Lorraine Schleter.
(Visited 26 times, 1 visits today)