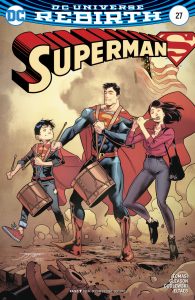 Two months ago, in honor of July 4th, Peter J. Tomasi, one of my favorite comics writers, together with Patrick Gleason, offered up a two-part Superman story called "Declaration." Lois, Clark and their son, Jon, take a tour of the United States to visit historic sites. On this trip, they meet the Dowd family, who, for 154 years, have celebrated the birthday of Thomas Dowd, their ancestor, at Gettysburg. Thomas died in a military hospital and his body was never recovered. The story brought tears to my eyes, and not only because Tomasi and Gleason told it so well.
You see, I have a Thomas who fought in the Civil War. His name was Thomas Rathbone, and he too died in a military hospital. He was my great, great grandfather. His body, too, was never returned home. Over a century later, some of his descendants journeyed to Ashland, VA, to place a marker on a mass grave where we think he was buried.
The fictional Thomas Dowd fought for the Union army. The very real Thomas Rathbone fought for the Confederacy.
Thomas, like my Dad, like my nephews, like countless others, was not a martyr to a political cause, or a living embodiment of its ideals. He was just a young man who left his family to offer up his life to defend that family, and his friends and neighbors. I don't agree with that nation's political goals. I don't agree with slavery, or that the United States was better off divided. But neither do I agree with the bombing of Dresden, the dropping of the atomic bombs on Japan, or the war in Iraq. I don't agree with war, period. I still am grateful that my Father survived. I still prayed for the safety of my nephews. I still am glad that Thomas Rathbone fathered Chris, who fathered Joan, who gave birth to Edwin, who fathered me. I honor Thomas's memory.
Recently, a local politician in my County said that all memorials to Confederate veterans are motivated by hate. I respectfully disagree. I honor my Thomas's memory with the same warm feelings with which the fictional Dowds honored theirs. There is no hatred in that sentiment. I'm glad that the Superman team showed the positive side of honoring our fathers. I hope at least a few readers can come to realize that that honor can be felt by all of us, whatever side our fathers took in wars that were not ours.
(Visited 174 times, 1 visits today)