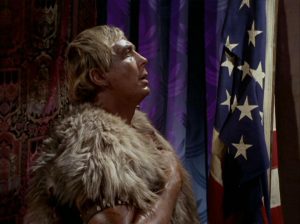 Terrible episode, right? If you're of a generation of fan that doesn't recognize any Star Trek quote other than, "Khaaaaaaaannnnnn!!!", I'll explain.
Gene Roddenberry, aka the Great Bird of the Galaxy, creator of Star Trek, developed a script early on in the production of Trek—so early that it was a contender for the show's famed second pilot episode—called "The Omega Glory." The premise was that there was a planet of two primitive, but apparently immortal, tribes of people called the Yangs and the Kohms. They had a hereditary feud. The Kohms presented as basically civilized, the Yangs were mute and apparently savage.
They were mute, that is, until Captain Kirk and Mr. Spock, imprisoned with two Yangs, mentioned that they needed to somehow attain their freedom.
"Freedom?" said the big, male, mute, shocking the two Starfleet officers. "Freedom?" And, as above, he told the outworlders that they were not to use the sacred word.