So, right up front, there's some doubt about the name of this story. It is consistently called "The Hell-Bound Train" wherever mentioned in The Hugo Winners, Volume I. Wikipedia credits it as "That Hell-Bound Train," matching the folksong from which it takes its name. Isfbd.org agrees with Wikipedia.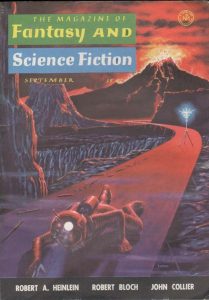 Robert Bloch is perhaps best known as the author of Psycho, the novel on which Alfred Hitchcock's famous thriller of the same name was based, and of Psycho II, the novel on which Richard Franklin's less-famous thriller of the same name was… not based.
Bloch's work nearly always includes elements of horror, but he is known for science fiction stories as well, including the Star Trek episodes"Wolf in the Fold," about Jack the Ripper, "Catspaw," about the fabled civilization whose science is so advanced that it is indistinguishable from magic, and "What Are Little Girls Made of?", about the killer androids created by a dread (and dead) civilization.
No surprise, then, that his first-and-only Hugo-winning short is not really a science fiction story, but a variation on Faust and many other tales of mortals trying to outwit the devil.
Continue reading