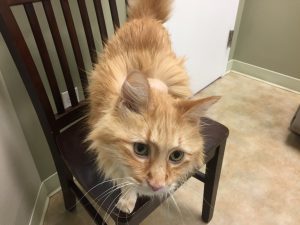 Whatever god there be—or spirit, or entity, or faceless multinational or computer program—or is it Robert Heinlein's Time Corps that watches over little orange tabby cats?
All I can say is "Thank you."
This is the day he wasn't supposed to be here, and he's sitting on the bed with his feet propped on my leg. His fur is soft again, instead of matted. His eyes are no longer sunken into his head. He runs instead of walking. He jumps instead of waiting to be placed on a chair or bed.