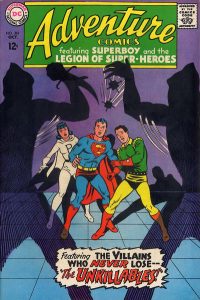 This one's a little offbeat. As the story opens, we're informed that the war with the Dominion has been going on for 20 years.
As I've been saying all too often lately, "Wait… what?"
You mean to tell us, Master Shooter, that Earth and the United Planets (because, as far as we can see, Earth is the United Planets) have been at war the entire time we've been reading these Legion adventures, and we never knew it? So Lyle, Gim, Dirk, Chuck, and the late, lamented Andrew were all born on a planet at war? It sure doesn't feel like it!
But that may be part of the point. Jim Shooter was born in 1951, in the midst of the Korean War. That ended in July, 1953. But just over two years later, on November 1st, 1955, the United States went to war again. Jim Shooter was not yet two when peace broke out, and had just turned four when it ended again. His nation would be at war in Viet Nam until he was 23. (If you're American and you want to get really depressed, here's a Washington Post piece on how much of your life has been spent in war time.) (Yes, I'm being political, but I don't believe I'm being in any way partisan.)