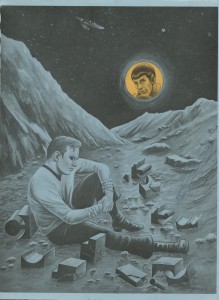 September, 1979. Ads for Star Trek: The Motion Picture were popping up everywhere. They showed a glorious new (but recognizable!) USS Enterprise, and had photos of all of our favorites in a row beneath it. The uniforms were a little drab, but this was the sophisticated 1970s. We didn't expect primary colors anymore.
Bev and Nancy, having not even seen the film yet (they would attend the gala opening night at the Air & Space Museum in Washington DC, just months later), were already showing their approval of its style. Perhaps their most striking, memorable cover to date graced this double issue of Contact, numbered 5/6. Like the more expensive paperbacks of the time, this issue had a double cover. The first layer depicts Kirk in blue monochrome in his classic uniform, sitting amidst rubble, while a golden-haloed visage Spock looks down on him. They are together, but isolated. The Spock image is, in fact, from the next layer, revealed by a circular die-cut in the upper cover.
Turning that first leaf over reveals…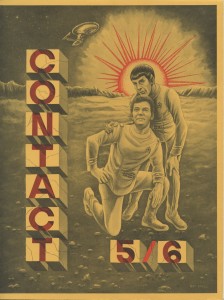 Kirk and Spock are reunited in a burst of gold (blue and gold were, of course, Contact's official colors, based on the shirt worn by Kirk and Spock in the original series.) They're in their new, Motion Picture uniforms, albeit in a pose they never assumed in that film or any other. It's an ambitious cover design for an ambitious issue, boasting 33 new stories and poems, plus the epic novel Home is the Hunter.
On the editors' page, Bev and Nancy once again bemoan that there might not be a Contact 8 (there was), but that there would be a Phase II Collected (there was not) and a Complete Rack (that happened too.)
But their tone was jubilant, not hopeless. They were celebrating their triumph. After ten years, Star Trek Fandom had succeeded, and brought its beloved heroes back to film. As Bev and Nancy noted: "This issue of Contact is a celebration–of the triumph of the fans, of the efforts of the editors and contributors, the rebirth of a dream, but most of all the continuation of the Kirk/Spock relationship."
STTMP is much-maligned by fans whose interest in the genre was quickened by Star Wars, but it was a victory for fans of the 1970s. Like Vina with Captain Pike, they could not help but love it.
Download links:
CBZ
Contact 05
Contact 06 (Home is the Hunter)
CONTENTS
And of the Stars (Poem) – Beverly J. Volker (art by L. Frim & S. Gingras)
Woe to Him Who is Alone – Linda White (art by Pat Stall)Home/Home (Poem) – Jimmye Galli (art by L. Frim & S. Gingras)
Ode to a Newborn Son / Beginnings / Two (poem) – Theresa Wright (art by Liz Wright)
And Now Silence – Teri White (art by Evallou Richardson)
Worlds Apart (Poem) – Pete Kaup (art by Kathy Carlson)
The Enchanted – Martha J. Bonds (art by Laurie Huff)
The Man Beside You (Poem) – C.F. Woolford (art by L. Frim & S. Gingras)
Double Image (Poem) – Ellen L. Kolbrin – (art by Russ Volker)
In Your Place – Crystal Taylor
Coming Home (Poem) – Della Van Hise (art by Kathy Carlson)
We Are One (Song) – Martha J. Bonds
Fire & Ice – Virginia Green & Sandra Gent (art by Leslie Fish)
In Between the Dark and Light (Poem) – Sandra Gent
Shadowrider – Susan K. James (art by Gayle Feyrer)
Vulcan Lies – Shirley Passman
Separate Ways (Poem) – Martha J. Bonds (art by L. Frim & S. Gingras)
But Up To Now – Ginna LaCroix (art by Laurie Huff)
The Source (Poem) – Beverly J. Volker (art by L. Frim & S. Gingras)
Lookin' In (Poem) – Crystal Taylor (art by L. Frim & S. Gingras)
Song Trilogy – Bev Volker & Carolyn Venino (art by L. Frim & S. Gingras)
After the Flame – Sibyl Hancock
After the Challenge – Martha J. Bonds (art by Alice Jones)
Sorrow's End (Poem) – Jimmye Galli (art by L. Frim & S. Gingras)
Fires of Yesterday (Poem) – Susan K. James
Thou More Than a Brother – Theresa Wright (art by Nan Lewis)
Earth and Moon (Poem) – Martha J. Bonds (art by L. Frim & S. Gingras)
Breathing Space – Carol Frisbie & Susan James
And You Were There (Poem) – Sarah Leibold
Watch in the Night – Sibyl Hancock (art by Mike Verina)
To Fly Again (Poem) – Pete Kaup (art by Kathy Carlson)
Continuum (Poem) – Bev Volker (art by L. Frim & S. Gingras)
Contact's Favorite Things – Nancy J. Kippax
(Visited 1,746 times, 1 visits today)