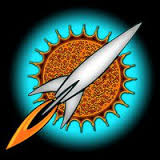 So I'm at Philcon, America's oldest running science fiction convention. Tonight, I'm doing a panel about fanzines of the past, present and future. A big piece of my agenda in proposing this discussion was to plug something that's (obviously) very close to my heart: preserving fanzines. For the uninitiated, fanzines are amateur magazines published by people who love some professional work, like Star Trek, Star Wars, Starsky and Hutch, and even some things that don't begin with the four letters 'S-T-A-R.' They love these works so much that they just have to write about them, produce artwork inspired by them, compose songs about them.
When I got into science fiction and Star Trek fandom, dinosaurs roamed the earth. Seriously, my mother-in-law and her friends, who published fanzines, called themselves "dinosaurs," because they'd been in fandom so long. Their zines (short for fanzine–please take notes) were beautiful, but printed on plain xerox paper and bound with staples or spiral combs. They were far more vulnerable to the ravages of age than, say, hardbound books. Forty years later, a lot of the existing copies are in tatters.
But a lot of love and talent went into creating these things, and prominent people like Howard Weinstein, Peter David and A.C. Crispin got their start participating in the fanzine world. These labors of love deserve to survive. So tonight I'll be pounding the pulpit about fanzine preservation, and I'll be promising to share links and a flier from my online friend Morgan Dawn, who's working with Texas A&M on their fanzine archive. And here they are. Please take a look. It's very, very important than fandom remember where it came from. These materials don't represent the original roots of fandom, but they represent an important step in its evolution.
University of Iowa Special Collections – is digitizing their own collection of science fiction and fantasy zines.
Texas A&M University – Is collecting digitized zines for a closed collection, will offer them publicly on the publisher's request. They're looking for help scanning too, if you're interested.
They also are building an archive of Filk (science fiction folk music.)  Here's another article on that.
Bowling Green State University (Ohio) – Star Trek / Star Wars etc – No digital archive, but they're collecting fanzines.
Here's a flier about the whole initiative.
(Visited 82 times, 1 visits today)