(Read Part One if you have not)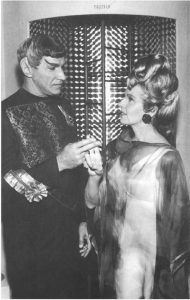 Penthesilea, the world on which Night of the Twin Moons is set, is a female-led culture. The name of the planet suggests that, if you know your mythology. Penthesilea was a queen of the Amazons, sister to the more-familiar Hippolyte, whom she had killed in a hunting accident, making her queen. In Greek myth, the Amazons were not, like Wonder Woman's Amazons, women who lived without men on an island. They were warrior women who dominated their timid husbands, lopped off one of their breasts to make them better archers, and lived in the city-state of Themiscyra. 
Lorrah's Penthesileans are likewise women who dominate their men, with the added wrinkle that there is a tremendous IQ differential between the women and the men, with few of the men being of even average intelligence, compared to humans, while the women's intellects are comparable to those of earth people, or even Vulcans. The women therefore use men for breeding, swap men, retire (and castrate) men when they become too old to be attractive. It is heresy on Penthesilea to even suggest that a man could be as intelligent as a woman. Men are, essentially, livestock. Indeed, "one man" is a unit of currency. But Penthesileans are not Amazons, for the very simple reason that they are not warriors. War has never occurred on their world, because there is literally no competition between the sexes, and the choosing of a mate is so well regulated that there is no jealousy. 
Into this unusual paradise comes the Starship Enterprise, on a diplomatic mission to negotiate rights for the planet's dilithium resources. Two big challenges are evident: One, the ambassador has to be female, since Penthesileans don't believe men can think: two, the Penthesileans expect, if trade is to be opened with the Federation, to be paid in men.