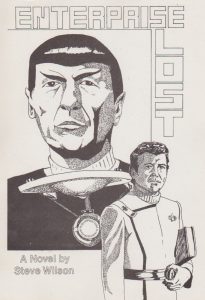 Welcome to Fan Fiction Fridays! Think I have enough "themed" blog entries yet? I've decided to start sharing fan fiction produced by myself, my family and my friends herein, because, well, we put a lot of work into it. It's the reason we got involved in crazy ventures like Farpoint and Firebringer Press. And I think it deserves to be remembered. I've shared some of my fic already. You can access it from the Fan Fic menu item above. But there are some big chunks missing.
In 1982, I wrote a Star Trek fan fic titled "A Noble Mind is Here Oer'Thrown." Terrible title, right? I got news for you. Most of my titles suck. Not news. By 1984, it became its own fanzine novella, Enterprise Regained. You can read that here.
People liked "Regained" so much (and when I say "people," I mean probably two or three) that they told me to write a sequel. "But," I said, "'Regained' was a continuation of ST II, and ST III invalidated it. How can I write a sequel?" "Make it reconcile the two," they said.
And Enterprise Lost was born. It has never seen the light of digital day, to my knowledge. So here it is, the prologue, anyway. I'll post a chapter a week. My thoughts on this segment follow it.
Oh, and I did the artwork, too. I beg your forgiveness.  Continue reading →