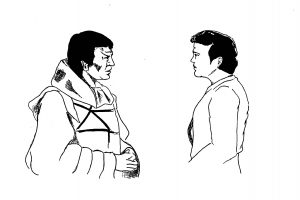 David had pillowed his head against Saavik's shoulder and now snored gently in sleep. Saavik had never heard snoring before—she had slept in close proximity only to Vulcans, who did not seem to suffer from the strange affliction. 
It made her smile to see him so defenseless—and happy. They had both thoroughly enjoyed their nights together. She reached out to stroke his face gently, taking an irrational pleasure in the coolness of his body… "like lying in the shade on a hot summer's day." 
She wondered again what Spock would think of the path she had chosen. He had said he might not approve of her decisions, but would he have approved of this one? Would he have been pleased that she had… fallen in love? And that she had done so with the son of a man Spock had so respected? She would like to think so. She would like to have thought that her happiness was important to him.