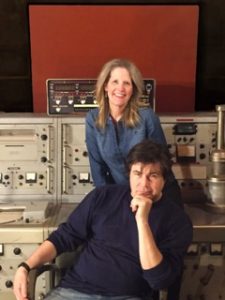 So there will be no blogs this weekend, because I'm attending and working the 25th annual Farpoint convention. In case you're the one person I haven't told the story to, I co-founded Farpoint with my family back in 1993, and, though I don't have to write the checks any longer, it's still a going concern and I'm still working on it.
Back in 2002, we introduced something called the Volker/McChesney Award to recognize fans who had made significant contributions to local fandom. My stipulation when we created the award was that no member of the Farpoint committee would be eligible—in particular, *I* would not be eligible, because I didn't want to create an award and then appear to be giving it to myself.
But the committee pulled a fast one on me, and this year's award was presented to both my wife Renee and me. Yes, we were given the opportunity to decline; but we thought that might hurt the feelings of some very nice people. So, last night, we received our award and the following words were read by a young blond man whom I'm told bears more than a passing resemblance to me. (That would be my son, Ethan, who was emceeing with his brother.)
Very kind words, so I share them here.
The Farpoint Committee is awarding the 2018 Volker/McChesney Award for Service to Fandom to Steven H. and Renee Wilson. As the founders of Farpoint Convention, and still serving on its committee, they have provided a long-lasting gift to fandom, a convention by fans, for fans.
Steve and Renee are the second in a 3-generation chain that started with Beverly Volker and Nancy Kippax and now includes Beverly's grandchildren Ethan and Christian Wilson. The Volker and Kippax families attended the first Star Trek conventions in New York City, which inspired them and others to bring the Star Trek convention scene to Baltimore. Their families all participated in the first ShoreLeave, ClipperCon and OktoberTrek conventions. They also created the Contact fanzine, which provided writing opportunities for many to share and explore their desire for continuing adventures based on Star Trek and the beloved characters. One of those writers being a young man by the name of Steven H. Wilson….(Note from Steve-I never actually wrote for Contact, but Renee did!)
When the final OktoberTrek finished, Steve and Renee were inspired to continue to keep a fandom-centered convention alive in our area. Over the years, they have seen Farpoint grow and evolve, moving to embrace the full of science fiction and fantastic media and all the new technologies that let fans participate in the things they love and also create their own new stories and art. The Wilson family's participation in today's Farpoint Convention is a reminder of fandom's roots, reaching from small groups of fans keeping Star Trek alive to the current mainstream fandom incarnation. Today's high-profile fan culture would not be possible without the inspiration and dedication of people like the Volker and Kippax families, represented here by their children Steven and Renee and grandchildren Ethan and Christian.