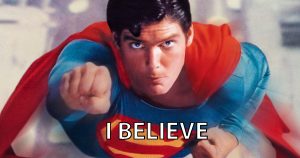 Sunday I saw Superman: The Movie in the theater for the second time. The first time was the year it came out—1978. It was December. I was 13. I was there with my best friend, and we had both been reading about the production of the film for a couple of years in special update pages in the back of every issue of DC Comics. Some lucky kids about our age had won cameo appearances in the film, the result of a much-ballyhooed contest. At that point in my life, I had only seen about a dozen films in the theater. This one was a big deal.
I loved the complexity of Superman's mythos—the exotic world of his birth, the bottle city of Kandor, a miniaturized piece of his home, the various colors of kryptonite and the various effects they had on him, the kick-ass supporting cast that surrounded him—Ma and Pa Kent, Lana Lang, Pete Ross, Lois Lane, Jimmy Olsen, Perry White, his cousin Supergirl, his pet Krypto, the Super-Dog. This film was only a small, two-hour slice of comic book life brought to the screen, but it was the biggest, boldest attempt ever to do so. And, unlike other live action super hero fare that had come before it, it did not insult the character by camping him up, and it did not make him more mundane in order to fit into "the real world." (I'm looking at you, TV's Incredible Hulk!)
At 13, Superman: The Movie stoked my imagination, which was already in thrall to comic books.
At 53, Superman: The Movie, made me, with tears in my eyes, come to terms with a very simple truth:
I believe.