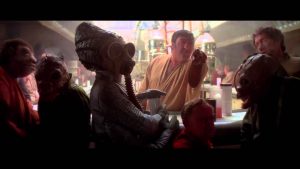 Few fans of science fiction do not remember the moment in Star Wars when Luke Skywalker enters the cantina at Mos Eisley, accompanied by C3PO and R2D2 and is told "We don't serve their kind." Luke is confused, and the barman explains that 'droids are not wanted in his establishment. So the 'droids glumly go to wait outside while Luke and Obi Wan meet Han Solo.
Nothing else happens related to this incident. The hateful behavior of the barman is not addressed. We're left to assume, I suppose, that someone is always at the bottom rung of the social ladder, and such people are always discriminated against. In the Star Wars universe, those disenfranchised people are 'droids. The moment stands that hate is a fact of life.
For anyone who's ever been told that they weren't welcome because of something recognizable about them, over which they may or may not have any control, it's a painful moment. It twinges me because I dealt with age discrimination practiced by businesses when I was younger—rules put in place because business owners assumed all children were thieves. It left me with a profound sense of injustice. How much more profound a sense of injustice must have been felt, I wonder, by African Americans who were told they couldn't eat in a restaurant, had to sit in the back of the bus, or couldn't come to the same school as their white neighbors? Similar discriminatory practices still happen worldwide—the most recent non-U.S. example I can think of is the prevalence of "Poles need not apply" notices that accompanied help wanted signs in Great Britain during the time of Brexit.
It's a shame Star Wars didn't really address this behavior. It's one of the most pernicious practices of humanity—excluding people you don't know because you recognize them as belonging to a group you don't align with.
I was taught that discrimination was wrong. Racism. Prejudice. You name it. If it involved saying, "Everyone in that group is a bad person," it was sloppy thinking, and immoral. I was further taught that, really, you should love your enemies. Jesus said so in the Gospel of Matthew. He also said, essentially, that it isn't easy to love your enemies, but that's just the point. If it were easy, everyone would do it. If you want to be a good and moral person, and child of God, you need to do something to rise above the herd. (Which means, I guess, that Jesus recognized there was a herd. Point to be discussed later, I think.) I was also taught that it's ungracious to treat your enemies with hostility in a social situation. That's a Southern thing.
I would go so far as to say that rejecting an individual based on his or her group membership is immoral. It's also plain stupid. What kind of person refuses business simply because of skin color or sexual orientation? A person who doesn't want to stay in business. An idiot.
It's wrong to refuse to serve someone based on the group they belong to. It's bad for your business and your reputation. It hurts feelings. It does no good whatsoever.
Sadly, you have the right to be an idiot. You have the right to do stupid and self-destructive things. You have the right to ask people to leave your property. You have the right to say, "I will not work for this person," because, without that right, you're a slave. Conversely, no one has the right to enter your property if you don't want them there, and no one has a right to do business with you if you are a private businessperson.
Some of you will disagree with that last, but I hold firm on it. The fact that the rights I believe in allow people to legally hurt the feelings of others, and to hurt their own reputations is a sad truth, but it's still a truth. I just take no pleasure in the fact that some (stupid) people use their rights to hurt others.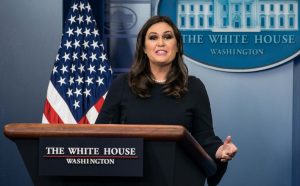 So I take no pleasure in the fact that Sarah Huckabee Sanders and her family were thrown out of the Red Hen restaurant in Lexington, VA. I don't like Mrs. Sanders's boss. I don't like a lot of the things she says. I absolutely defend the right of a private property owner to ask someone to leave his restaurant.
But I also think the restaurant owner behaved in an ungracious, uncivil and immoral manner. I would not support his business if I had the opportunity to do so.
Many of my friends disagree. Many of the same friends who would tell me that property rights should be limited so that people can't commit racial and sexual orientation are absolutely delighted by this man's act. Even though it's an act they would deny him the right to engage in. They think it's wonderful that members of the Trump administration were treated inhospitably. They want to patronize this restaurant now.
But I'm still in the same place I was in before. This is legal behavior, but it's immoral behavior. And why would I want to encourage it?
If I say it's okay to throw one group out of a restaurant because they support Trump, am I not also saying it's okay to throw a group out for supporting Clinton? Or Bernie Sanders? Or Jill Stein or Gary Johnson? If I encourage political discrimination, am I not setting a precedent which might later be used to discriminate against me or someone I love?
"Those who live by the sword shall die by the sword," or, as I like to say at work, "If you lay a stick on the table, you should expect to be the first one who gets whacked with it."
If we approve the mistreatment of other people—any other people—we are saying that mistreating people is okay. And it's not. It may be legal, but it's not moral.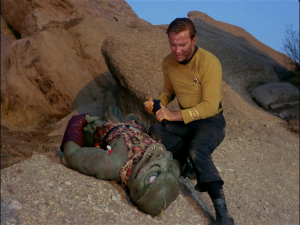 "Love your enemies" wasn't only taught to me in Sunday School. It was taught to me by Captain James T. Kirk, when he was spirited off to an unknown world to fight to the death with an extraterrestrial called a Gorn. The Gorn was captain of a ship that had raided an Earth outpost, slaughtered an undetermined number of men, women and children, including friends of Kirk's and members of his crew. The Gorn Captain made it clear he intended to kill Kirk. The Gorn's idea of mercy was to make it a quick kill. But Kirk won the battle, and, crouching over his enemy with a handmade knife poised to strike, announced, "No. No, I won't kill you. Maybe you thought you were protecting yourself when you attacked the outpost."
The Metron, an advanced being who had engineered the battle to decide which race was worthy of continued existence, congratulated Kirk on displaying "the advanced quality of mercy." He might not have been ready to buy his enemy chocolates and flowers, but he was able to see his enemy's point of view, and to show him compassion—even though he had committed unspeakable acts which had hurt Kirk.
No doubt it was in Kirk's head that, if the strong always kill the weak, we're all in trouble. There's always someone stronger. And Kirk did not want to live in that kind of universe. He was willing to let the Gorn live and go free, even though he didn't share Kirk's high-minded principles.
That's loving your enemy. That's overcoming fear. That's how healing begins.
And had the Metrons forced Kirk and the Gorn to love each other? Would that have worked? Perhaps, but then they wouldn't be free beings any longer. Free beings have to make mistakes—commit sins—in order to learn lessons like "love your enemies."
You can't force it. You can't stamp out evil. All you can do is be better than it is. And using its methods is not being better. It's just being part of the problem.
(Visited 88 times, 1 visits today)