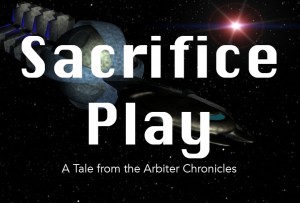 Sacrifice Play is the third novel in The Mark Time and Parsec Award-winning Arbiter Chronicles series, picking up where Unfriendly Persuasion left off.
Imagine a technology so dangerous that you could be killed just for knowing it exists…
Lieutenant Terrence Metcalfe and his team combat a starship captain so driven to complete his mission that he sets his ship to self-destruct and kill everyone on board.
Sacrifice Play – A Tale from the Arbiter Chronicles premieres at Shore Leave 38, and will be the eighth book released by Firebringer Press. It's also one of two Firebringer Books slated to premiere at Shore Leave, alongside Elsewhere in the Middle of Eternity.
Sacrifice Play will be released simultaneously in trade paperback and audiobook, and will be the focus of the first-ever crowdfunding effort by Prometheus Radio Theatre and Firebringer Press. Details will be announced soon. Stay tuned to this link!
Arbiter ship design by Ponch Fenwick.
(Visited 17 times, 1 visits today)