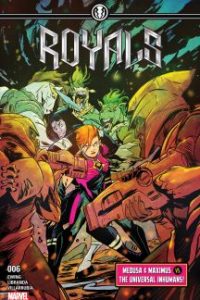 I'm a bit behind on this series. I think #9 just came out. It's not on the top of my "need to read this right now" stack, and I do have a lot of unread comics. Still, I do try to get to all of them.
I must confess that the cosmic side of the Marvel Universe is something I haven't kept up with, and it's gotten a bit complex and confusing for me. But, despite the fact that I'm not a royalist and hate the idea of inherited governing power, I've always liked the Inhumans. So I'm following this series to see what they're up to. Black Bolt is missing and imprisoned, Medusa is terminally ill, Maximus is hanging around like a second-rate Loki. But I do enjoy Al Ewing's writing, so this book is holding my interest. And I must admit, Ewing is making me like the character Gorgon for the first time ever. I've always considered him just an ass, sort of Ares to the Inhuman pantheon—a warlike, temperamental child. But writer Al Ewing has given him three dimensions and even made him a little sympathetic.
I miss Triton and Karnak, but it's nice to see Crystal front and center. She so rarely was, in the Inhuman stories I grew up with. I had heard she had married Ronan the Accuser. I can't see that ever happening, and I've been emotionally distanced from her scenes with him in this series so far, as their relationship crumbles. I just don't feel it. Granted he's cuddlier than Quicksilver, but this is a woman who's loved the Human Torch. Ronan is way outside any type she's established. Of course, she did once have a fling with a Realtor from Jersey, so…
Anyway, if you're engaged by the Inhumans' TV series and want to read current comics about them, this is a pretty good one. I would also recommend finding a trade collection of the original Fantastic Four issues that introduced them.
(Visited 31 times, 1 visits today)