September 26, 2017
Dear Daddy–
The shower stall is now almost completely tiled. Shopping for waterproofing compound, I found this amazing product called SimpleMat. It's basically a giant roll of double-sided tape. You stick it on the surface to be tiled, peel off the backing paper, and press the tile into it. No mixing adhesive, no glue all over your fingers, shoes, floor and tile, no cleanup, and no waiting for the mortar to cure before you grout.
Of course, with my work-time largely cut up into chunks of a few hours here and there, the odds of me laying tile and grouting it the same day are very, very slim. Still, the savings in cleanup alone were worth the cost of the product.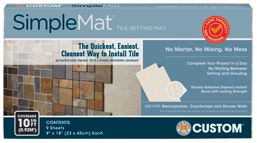 It doesn't do tiled ceilings, though. Its adhesive must not be quite strong enough. Indeed, tiles mounted on vertical walls can creep, and I did have one fall off the wall and break. Fortunately it broke in two segments I could use in corners after I trimmed them. That's the only piece of tile I've broken so far, except for one piece that cracked when I got a little too forceful with the mallet, setting it into place. I guess I've done about 20 square feet of tile, which is about 180 tiles, so that's not bad.
My last challenge, before I set your well-aged vitreous china fixtures into place for the plumber to connect, is the countertop for the sinks. Again, you had intended to place two sinks in this bathroom. I could have downsized to one, but, hey, you bought them. I want to use as many of your purchases as I can. Now, granted, I could just save one for the basement bathroom, but…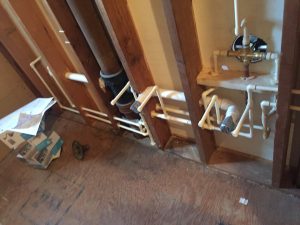 Well, the plumbing for them is already in, and it's too late to economically change my mind.
You were going to make all the cabinets in the house by hand. You built the kitchen cabinets yourself. Well, half of them, anyway. And I recently discovered that you had left the pieces, cut, but not assembled, for at least two more. They were even numbered for assembly, and I know I'll find a drawing somewhere, showing me how to put them together. I won't throw any of that away. Someday, I may build them.
But I am not a cabinet maker, just a cabinet maker's son, like Dan Fogelberg. Sorry, you wouldn't even know who that is. I will not be making cabinets for this house. That leaves me with the option of buying pre-made cabinets for three bathrooms. (Susan's sink is free-standing, but the master bath has a separate dressing room with its own sink.) Looking at the prices of bathroom cabinets, I could see why you made your own. They're ridiculously expensive!
But Renee had a brainstorm. We recently visited a friend's house for a birthday party. You would remember Yoji and Ursula Kondo. He thought you were one of the most brilliant men alive. And he was one of the others. Alzheimer's took that away from both of you.
Anyway, Ursula had recently redone her bathroom, and the sink was resting on a countertop supported by an open shelf. Renee really liked this look. In the meantime, I had researched the costs of premade countertops, since I didn't want to try and glue one together with Formica, even though you left me plenty of it. If cabinets are ridiculously priced, Countertops must be in the realm of "defies reality." I came across an article suggesting tiled countertops, and thought, "Huh. I got a lot of tile…"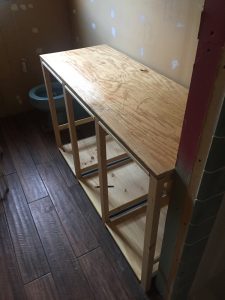 Renee thought the idea was brilliantly 30s-retro, so we settled on going to Ikea and buying a nice, pine shelf exactly 51 inches wide (the most the plumber said I could get away with) and I'll cut the countertop out of plywood, tile it, and drop the sinks in.
Oh, and the sinks are square. Unusual for countertop sinks then. Now, it's apparently quite popular. You were, as always, ahead of your time. Even if they are Regency Blue.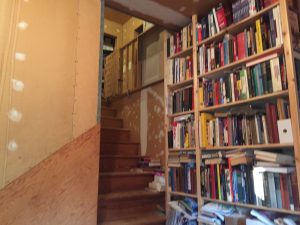 And I shan't discuss that the pine shelves match the ones I put on the stairway landing to house the books you had piled all over the floors. I know you hated those shelves.
Love,
Steven
(Visited 26 times, 1 visits today)