Jacqueline Lichtenberg has played a big part in the lives of science fiction fans. Not just creative fans who write fan fiction or produce their own media content, though she is a pioneer of fan fiction as we know it now, but also of any fan who now enjoys the organized chaos that is Fandom, as experienced at conventions or on the Internet. But let me tell it to you as I lived it. Do I ever tell it any other way?
In 1973, I was eight years old and a huge Star Trek fan. It was always on television, usually twice a day. Except for a brief dry spell when an episode about possession called "The Lights of Zetar" scared me so badly that I could neither eat nor sleep for a while, I watched it faithfully. My brother had been a fan even longer. He was, after all, eight years old when the show premiered. I was just a baby at the time, so I had to catch up later. I still remember the night I discovered, on my brother's book shelf, seven paperbacks labeled Star Trek 1 – 7. They contained short prose renderings of the episodes by noted SF author and critic James Blish. My favorite show? In book form? I was hooked. For several years, I read nothing but Blish's Star Trek and Greek Mythology. Hadn't yet discovered comic books.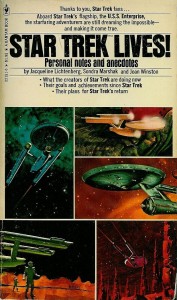 I bought Trek volumes 8 – 11 as they came out. Somewhere in there, Bantam, the publisher, released something called Star Trek Lives. It had the cover art from most of the Blish novels on it, so I bought it. I wasn't sure what it was. It wasn't short stories. It wasn't a novel. At that age, I wasn't too big on tearing into a non-fiction book that was over 200 pages long, but I skimmed. A section titled "Do it yourself Star Trek" sounded interesting. I read that. It seemed that a lot of people–adults, not just kids!–liked Star Trek so much that they were writing their own stories and publishing them in things called fanzines. I was fascinated. There were also clubs, and some things called "conventions." That was a big word, and very daunting. I hadn't a clue what it meant, but gosh it sounded important. And there was an organization, the Star Trek Welcommittee, which helped fans keep track of where all this stuff happened, when it happened, and how you could be part of it. Jacqueline Lichtenberg was a co-author of the book, an author of a lot of that "do it yourself Star Trek," and founder of said Welcommittee.
Flash forward a few years, because I did discover comic books, and they consumed my imagination for a while. I did write some of that "do it yourself" fiction–a lot of it!–between third and ninth grade, but it was largely focused on the Justice League of America, the Legion of Super-Heroes, and an upstart show called Space:1999. I recall trying to write some Avengers and X-Men, but they were a little above the level of someone my age. I started a Star Trek / Space:1999 crossover, but never got beyond the outline stage. (In case you're curious, the Moon, was going to drift into the Delta Triangle with the Alphans in suspended animation, where the Enterprise would find it after being catapulted there by a resurrected Gary Mitchell. That's all I remember. I drew a lot of concept sketches. If you don't know what the Delta Triangle is, you need to put yourself on a self-study course in remedial Trek history, which includes the Animated series.) None of this was ever read by anyone outside a circle of two or three teachers and friends.
It wasn't until Star Trek was resurrected and then re-resurrected by Harve Bennett and Nick Meyer with The Wrath of Khan that I got serious about this fan fiction business, as I've recently chronicled. When I did get serious, I had to figure out where I could send this stuff to have it included in a zine, or, publishing it myself, how I could let people know it existed. I remembered, several years before, reading about something called a Welcommittee. Did it still exist? Why yes it did. It advertised regularly in Starlog. (I think! Maybe it was listed in the Best of Trek books? I read all those, too.) I wrote to the Welcommittee and got a copy of their latest newsletter, as well as a guide about writing, publishing and buying fanzines which was written by Judith Segal. The Welcommittee newsletter helped me find cons to attend, zines to submit to and generally catapulted me into Trek Fandom proper.
Somewhere in there, I sent some of my fan fiction to Judy. She was very friendly and encouraging to me, sending me a critique and giving me solid advice about developing fiction. On the whole, Trek fans and the creative community among them seemed like a group of very nice, very encouraging people. Even as a teen, I appreciated that efforts of people like Jacqueline, who had taken the time to not only build an established Fandom around their favorite TV show, but to create ways in which new fen could join the party.
A couple of years later, in the college bookstore (where I went pretty much daily–it had a fantastic selection of SF books!) I found a book called Channel's Destiny, but Jean Lorrah, who'd written a really enjoyable Trek novel about Sarek and Amanda, and Jacqueline Lichtenberg. I figured I'd enjoy it, but, for some reason, I never read it. Over the course of the next almost thirty (ulp!) years, I became aware that Jacqueline had created her own universe, people by the Simes, the Gens and the Channels. She'd written many books in that series, and all those I knew in the Trek and fan fic communities had great respect for them. They were on my mother-in-law's shelves, and spent several years in my house, while her home was in transition and after her death. They went on to her sister, me still not having read them.
I was also aware that my friend Martha, founder of a filk group called The Omicron Ceti Three, had written at least one song inspired by the Sime-Gen series. (Again, if you don't know what filk is, remedial course. Seriously.) It was because of Martha's song that I finally read some of Jacqueline's works of fiction. You see, because I had started a web site archiving the fanzine Contact, my mother-in-law's significant contribution to fannish history, Jacqueline was referred to me as someone who could put her in touch with Martha, a major contributor to Contact. She wanted to discuss the use of Martha's song "Two Kinds of Man" in marketing a game based on her still-thriving series. In the course of this discussion, I was reminded that I'd never read the work of this important figure in a movement in which I've spent over thirty years of my life actively participating.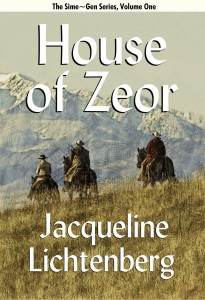 I searched out her website, simegen.com, where I was able to read her first Trek story set in the Kraith universe. (I've since discovered I actually have the first collected volume she published, back in the 1970s.) That was well-written and thought-provoking; so, in keeping with my quest to discover good books that were published before Twilight and Harry Potter, I sought out House of Zeor, the first volume in the Sime-Gen series. I just finished it this weekend.
The story is set on earth centuries in the future. The human race as we know it no longer exists. It has been replaced by two new offshoots, the Simes and the Gens. The Gens are almost–almost!–like we are today. Their bodies, however, produce selyn, a substance which is the quintessence of their life force. Drain it all from their bodies, and they die. The Simes are a bit more exotic. In addition to the usual human limbs, they have tentacles ensheathed on their forearms. These are wonderful for manipulating things in ways that regular hands cannot, but they are primarily intended to be used as collectors, harvesting selyn from the only source available: Gens. When a Sime feeds off a Gen, the Gen dies. If the Sime doesn't get selyn, the Sime dies.
It sounds a bit like a vampire analogy at first, but it's not that simple. There are also Channels, Simes who are capable of siphoning off selyn from Gens without killing them, and then sharing it with other, non-Channel Simes. Channels are the key to a possible future cooperation between the two races, and, indeed, it's a cooperation which must happen. Zelerod, a Sime mathematician, has run the numbers and concluded that, at the current rate of breeding and consumption, there will eventually be no more Gens to feed from, and all of humanity will die out.
The action gets off to a running start: Hugh Mallory is a Gen detective, assigned to find a government official who's been kidnapped in a raid by Simes. The official, Aisha, happens to also be the woman he's in love with. Hugh is working a police job only as a living, until retirement. By calling he's an artist, and Aisha is his model and his muse. In order to get safely into Sime territory and search for Aisha, he's got to work with an actual Sime. He's introduced to Klyd Farris of Householding Zero. Klyd is a Channel on a mission to bring about an era of peace and symbiosis between Simes and Gens. Because the kidnapping of Aisha could lead to the fall of the Gen government, hindering his efforts, he agrees to take Hugh with him and find her. Neither of them is wild about this idea.
So it's a buddy cop story where one cop is a vampire? No, again, it's not that simple. Rather than Hugh and Klyd learning to tolerate and trust each other well enough to work together, stop the bad guy and save the girl, Hugh actually becomes immersed in Klyd's householding, their lives become intertwined, they become family. We learn there are several householdings, all led by Channels, where Simes and Gens live together in peace because the Channels allow the Simes to feed without killing the Gens. We also learn that Hugh's mother is a Gen slave who escaped Sime territory many years passed, so he knows a bit more about the culture than he sometimes lets on.
I was struck by the strong feel this book has of true Seventies SF. There was no other time quite like the Seventies for SF, when the stories combined powerful hope for the future and a sense of morality with a bleakness and a grittiness that brought a sense of reality. I was (and still am) a huge fan of Logan's Run in all its incarnations, and House of Zeor made me nostalgic for the short-lived TV series (story edited by Trek's DC Fontana) in the way it put a stranger (Hugh) in a strange land (Zeor) and let him discover it in a relatively gentle way, evoking a real sense of peace and a sincere quest for knowledge.
But this story is not all nostalgia. I found its topics still relevant, now, perhaps, in ways Jacqueline didn't have in mind as she wrote it. The Channels, Simes who don't want to kill Gens, are considered "Perverts" by both other Simes and Gens. Not too many works of the period were so forward-thinking as to cast the people who are clearly the good guys in such a role, using a completely negative term like "pervert" to refer to them again and again. Of course, now we're very accustomed to hearing people who are trying to change the world for the better called "perverts." Sadly, that's the response of some of us to attempts to update marriage customs to allow two people of the same sex to be wed. For us today, there's a very clear gay marriage analogy. But this was written at a time when the word "gay" had just come into use, and there was quite a battle to attach any sort of a positive meaning to it in the minds of the non-gay segment of the public. Acceptance of homosexuality itself was just working its way into public consciousness. It would be decades before the time would be ripe to talk about marriage equality.
Indeed, the story skirts around the topic of homosexuality. There's a brief mention of it among the Simes, and we're led to believe it's tolerated, but no more. Interestingly, in order to complete selyn transfer, the Sime and the Gen must touch at five points: two tentacles to the left arm, two to the right arm, and mouth to mouth. Since most of the transfers are between men, there's an automatically homoerotic context, but it's explained that there is nothing sexual about this kiss. That's not to say that it doesn't explore the elements of love and friendship, even family ties, between men. Trek fan fiction has a long history of delving into those themes, and it shows here.
I appreciated the texture of the Sime and Gen cultures as we learned about them. There's a North / South dichotomy established, such as existed during the War Between the States. Klyd tells Hugh: "We have photography, fertility drugs, some rudimentary electronics, and a certain expertise in chemistry. You have industries based on mass production, mathematical sociology, and assorted fundamental attitudes totally lacking with us." The quote reminded me of the differences between the industrial Union and the agrarian Confederacy. It adds to the sense of realism in the story. (The welcome Hugh receives among the Simes also reminded me of an old children's book, Rifles for Watie, in which the young protagonist is received into the enemy camp and met with unexpected kindness. Such golden-rule-based treatment serves to undermine the spirit of war.)
This is a short novel, and clearly there is much backstory: Hugh's past and the Gen experience in Sime territory, Klyd's marriage to a Gen, and how it came to be, the nature of the Gen government… all of these are touched on, but there's no time to explore them. It's evidence of an author who put a lot of thought into creating a fully realized world. It's also a good way to encourage further readership. Fortunately for the so-encouraged, I'm told there are eleven more volumes in the series, and the creators are still going strong.
(Visited 81 times, 1 visits today)