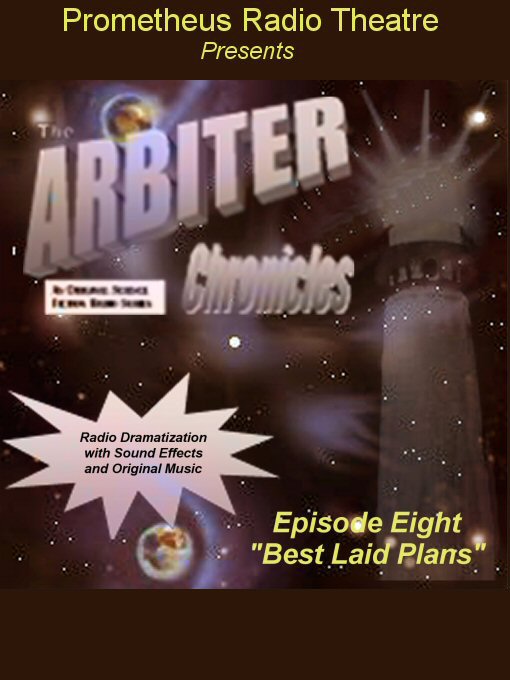 Atal receives orders to return home and take a new command.  He tasks Metcalfe with re-assigning the Arbiters.  The catch?  They can't all go with Atal.  Atal must intervene in a labor dispute between the Navy and the owner of a space way station who'd rather go down fighting than give in.
Buy a downloadable mp3 at BooksAMillion
Listen to the free podcast: Part One | Part Two | Part Three
"Best Laid Plans," ironically, was released on CD and performed in the studio a lot earlier than most of the other first series episodes. I wrote it, and we performed it, at the same time when we we working on the first two studio cuts. We recorded the rehearsals for the live performance and did the studio takes almost at the same time. I believe I even used the recording of the rehearsal to fill some lines in the final cut.
I had a couple of goals with this episode. One was to show some of the implications of truly commercial space travel, the idea that, if you needed way stations to assist people in navigating L-Space, lighthouses, if you will, then the owners of those lighthouses would have the right to refuse to serve anyone. And a really tough lighthouse-keeper, like Maeve Ginsberg, would not let herself be bullied by political interests into help people she thought didn't deserve help. And, of course, a lady that tough is going to be of interest to Jan Atal. And being ordered to push around that lady would place him in a moral quandary.
It's also the episode where Metcalfe has finally gotten the girl he's always wanted–Kaya. But there's trouble in paradise, of course.
Announcer – Paul Balze
Metcalfe – Steven H. Wilson
Carson – Scott Farquhar
Cernaq – Renfield
Kaya – Beatrice Kondo
Aer'La – June Swords
Atal – David Keefer
Faulkner – Cindy Shockey
Maeve Ginsberg – Renee Wilson
Rory Ginsberg – Eli Senter
Caleb Ginsberg – Ethan Wilson
Directed by Steven H. Wilson
Editing: Steven H. Wilson
Music: Scott D. Farquhar
(Visited 53 times, 1 visits today)