In case you haven't been paying attention, Sacrifice Play – A Tale from the Arbiter Chronicles, is the third novel based on my Mark Time and Parsec Award-winning Arbiter Chronicles science fiction series. It's in final editing stages now, weighing in at about 60,500 words.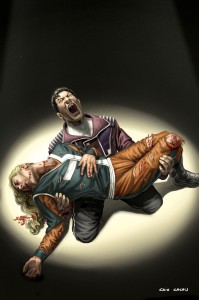 This time out, the Arbiters are passengers on a military vessel that's been assigned to test a dangerous new technology. If word of that technology's existence gets out to the public, the Confederate Navy believes their very way of life could crumble. They're willing to kill to protect the secret, and the Captain of the CNV Haakon Rodriguez decides to sacrifice his own ship and everyone on board for the good of all.
The Arbiters, aboard the doomed ship, um, disagree. It's a battle of wills and a battle against the clock as they race to save the ship from its own captain. Caio Cacau's gorgeous cover painting of Metcalfe and Carson should make it plain that the stakes are high this time out.