June 13, 2018
Dear Daddy –
I've been able to do part of my work on the back porch today, when I wasn't smearing grout all over myself in the master bathroom. The weather has been very nice the past few days, after what seems like weeksof solid rain. We did have rain Sunday and Monday, but yesterday and today have been very nice.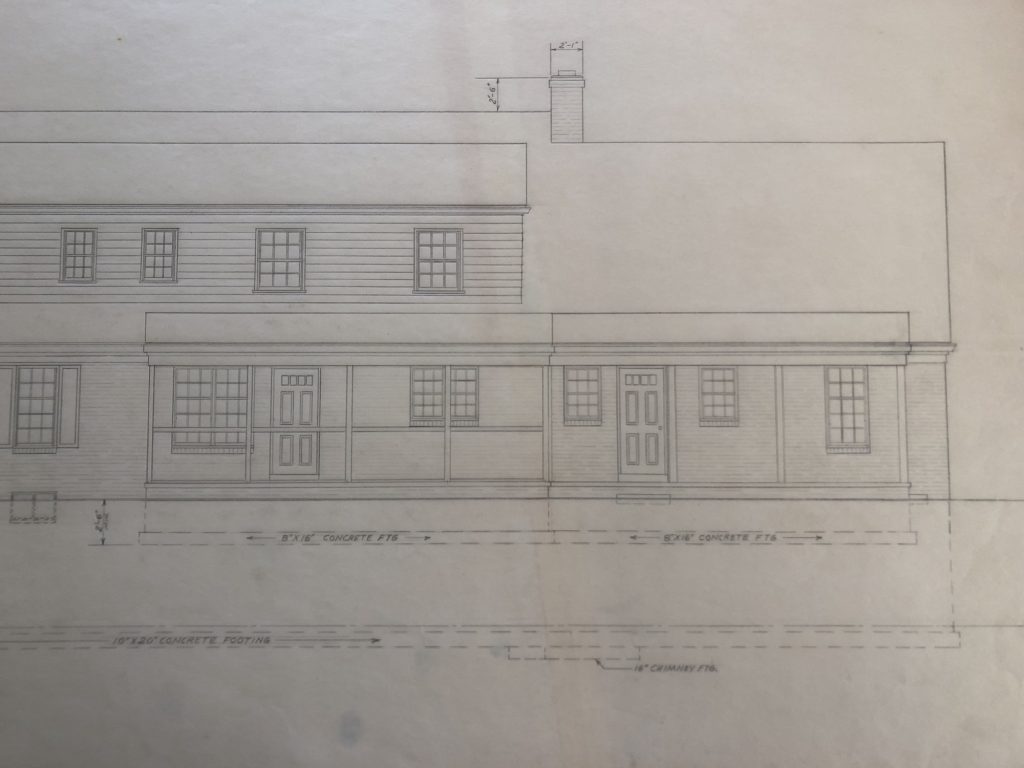 The back porch hasn't always been usable. You designed it to be another large room of the house, albeit an outdoor one. It runs from the West end of the house to the breakfast room wall—about 50 feet. One end is narrow—5 feet wide. The other is deeper, leaving a space about 10 feet by 25 feet. You had intended to screen it. It's in the drawings. You never even finished installing the permanent columns. Its roof has been supported by doubled 2x4s all these years.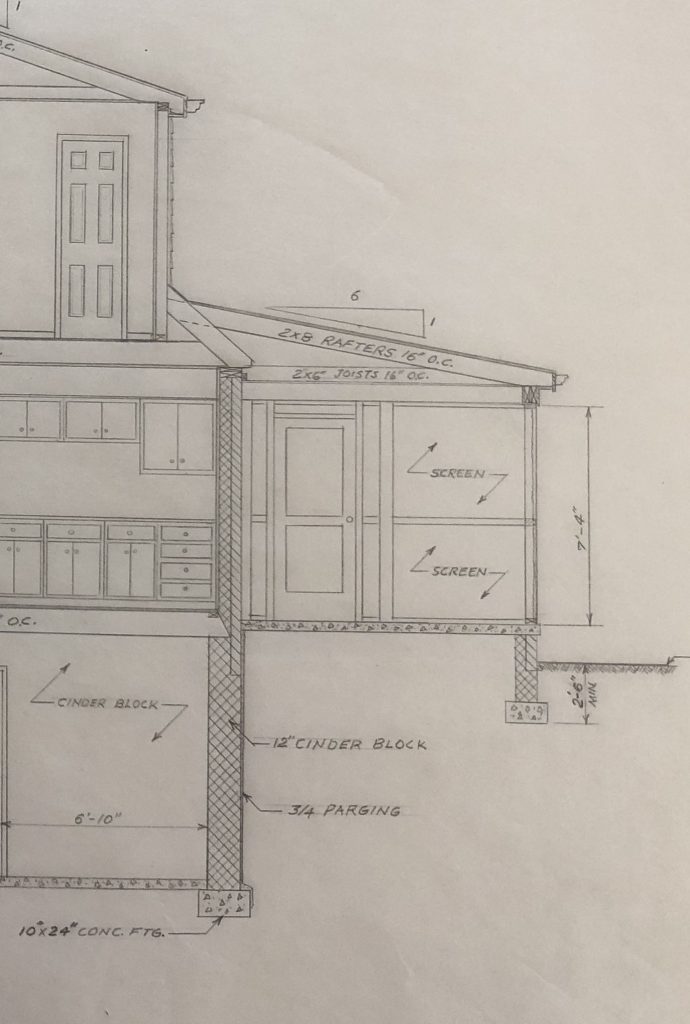 When I was growing up, it was a porch. It held a picnic table, sometimes dog houses, a couple of lawn recliners, and Mother's clotheslines. By the time you became ill, the wide section was completely full and being used as a garden shed—because the garden shed was full of military surplus. The narrow end held a line of surplus chairs, on which trash usually collected. Completely blocking the East end of the porch was the disassembled air conditioning compressor for the house—never used—and some kind of spectrometer. We cleared most of the extraneous furniture before you died, and even got the picnic table back up there… for a little while. Patrick and I cleared the shed so that it could hold garden tools again. Then the eCyclers took the spectrometer this Winter, and the compressor left when the new air conditioner was installed.
So now the porch is a porch again, and a pleasant place to sit, as long as we control our impulse to leave junk on it.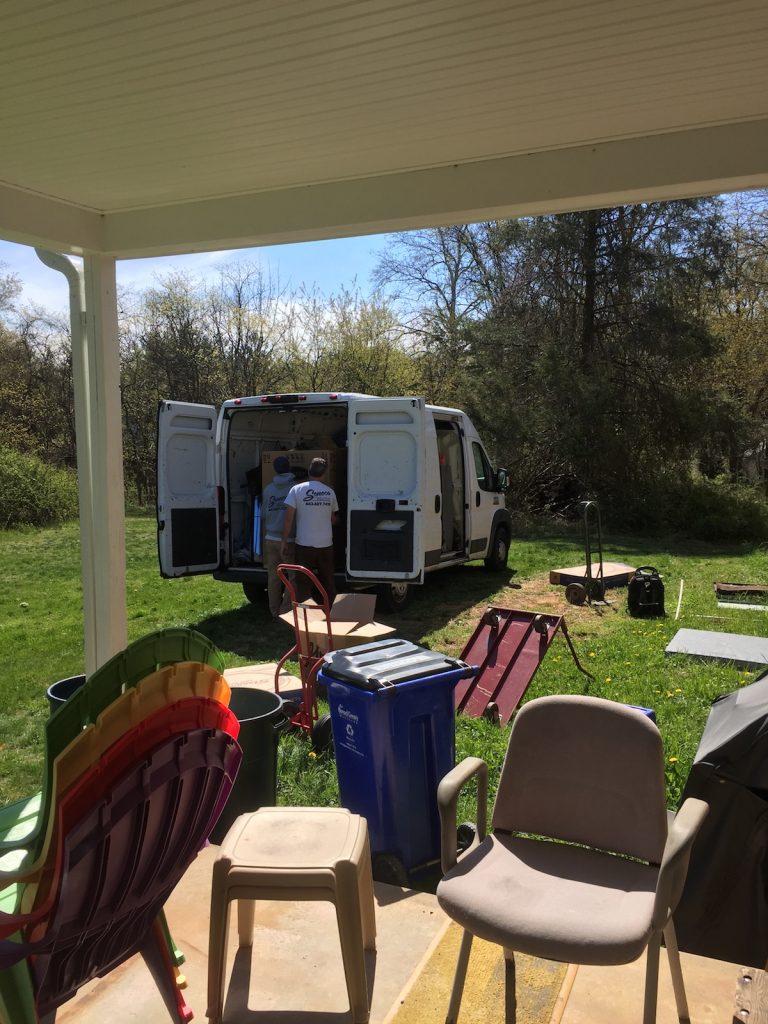 And the yard is getting better to look at. Christian cleared vines and small trees from the (previously not even visible) 1971 Malibu that got smashed by a tree a few years back.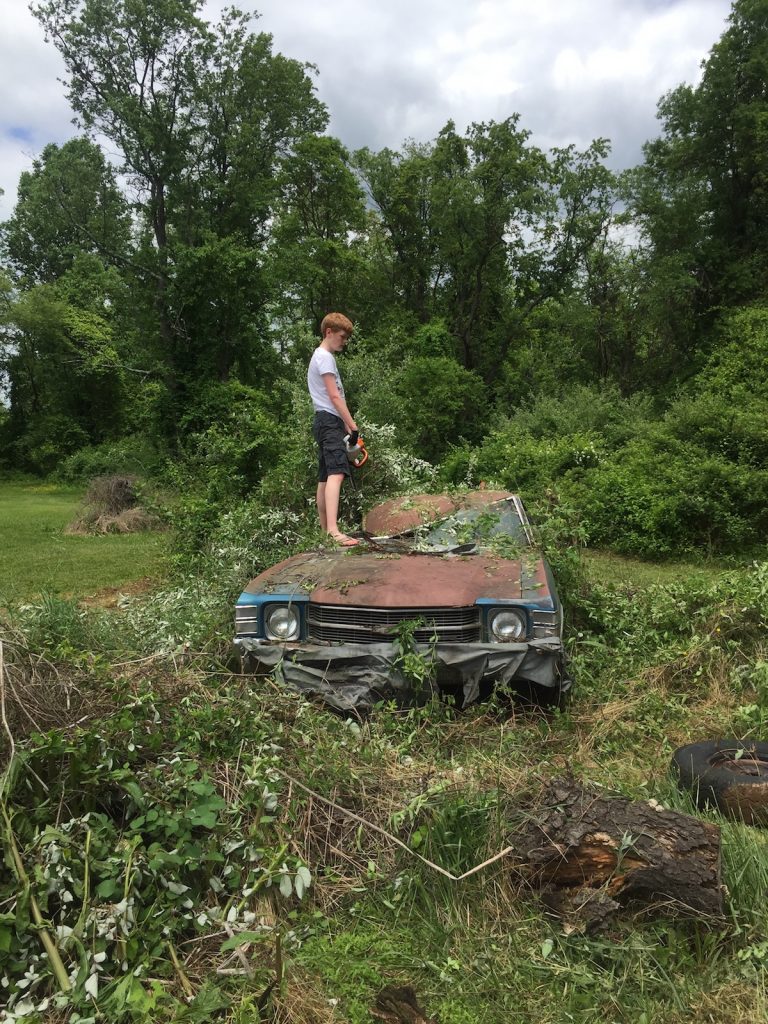 I've been slowly carving away a humongous island of blackberry and multiflora rose that grew up where one of our cherry trees used to form the East boundary of the back yard. And then, this past weekend, I had several friends come over for a work day, and we all sweated, strained and got poison ivy as we tamed a little of the wilderness that had grown where, 50 years ago, there were 13 acres of dirt hosting a dozen small wild cherry trees.
Chris (Jess's Dad) brought his chainsaw. I know we have chainsaws here, but I have no idea as to their condition, and I've had no time to check them out. He attacked the pine trees first. We have three huge pine trees in the yard. Two are in front of the house, the other is behind, near the basement door. At least one was once a live Christmas tree. About fifteen years ago, I said to you, "We really should trim the bottom limbs off of those trees, so that we can mow under them." When we moved in here, you bought a Gravely tractor with the mowing deck that attached to the front. It cleared the path ahead of the tractor and could go under branches. That made it pretty easy to keep the areas around trees mowed. When the Gravely went into a state of permanently being "worked on," you bought a Murray riding mower, and then a Poulan. Neither allowed you to mow ahead of the tractor, so neither could get under the low limbs of those pine trees.
But you said, "No, I don't want to do that."
And so the lower limbs began to scrape the ground. Honeysuckle grew around and over them, anchoring them to the ground. Then blackberries began to grow. Finally, other treesbegan to grow amidst the limbs. So, until last weekend, we had three vaguely conical green thingsin the yard, chocked with vines that Chris called "Betsy vines," and with maple and mulberry trees sticking out of them. Chris dove in and cut the lower limbs while Ethan, Renee, Phil, Scott, Tony, Brice and Sarah cleared out the vines and small trees.
We had to leave two trees standing, one maple and one sumac. They were too tall to take down. And, honestly, we may keep the maple. It's about ten inches diameter at breast height, and looks healthy. The poor old pine next to it is infested with carpenter ants and has a huge hollow in its trunk. So when we call the professionals to deal with that cluster, they'll advise us on whether the pine or the maple comes down. They can't both stay. They're just too close together.
And then there are the appliances. You placed what looks like a washing machine and two other similarly shaped items under the rear tree. Plus an old Teletype. They're now ensconced in vines, some four inches in diameter, and layered in honeysuckle, with a shrub growing in front of them. Those will take some time to get out of there. In the meantime, they look a lot like something from Earth After People.
Chris, Christian and Kim, Jess's Mom, also took down a bunch of trees that had grown in our garden (the "new" garden near the house. We've yet to reclaim the "old" garden out back.) Beatrice cut out a huge swath of the island I had been working on. And I took the new John Deere tractor out back and opened our walking path back up all the way. It was walkable, but getting grown up. And, after all our recent storms, it had five trees down across the path. So Chris walked with me and cleared those with the chainsaw.
It was a good day and a half of work. We still have a long way to go. We've taken four loads of brush to the dump, and I think we have six more. Oh, and we broke the rear window out of your truck with a misplaced toss of a limb. Sorry. It's fixed already. I had Safelight out yesterday. Christian has taken to driving your truck quite a bit. Most of the others aren't comfortable with its size, but he and I both like it.
I also wore your flannel shirt and Mt. Olive cap while I worked, to keep poison ivy off my arms. Everyone said it looked like you were back walking around the yard.
More next time.
Love,
Steven
(Visited 64 times, 1 visits today)