Is 50 years old today, we've decided. That's based on the day we moved in. We narrowed it down based on my brother's memory of watching the first game of the 1967 World Series at our temporary home at the Valencia Motel, and subsequent games in our new home. (Amazing what the memory retains!) My sister remembered we moved in on a weekend, and that narrowed it down to Sunday, October 5th, 1967. I was but two, so I had nothing to contribute to the discussion.
Correction: We pulled the wrong day out of Google for 10/5/67. 1967's calendar was actually identical to 2017's. So the move-in date was probably October 7th. This is an early announcement, then. The house's birthday is this Saturday.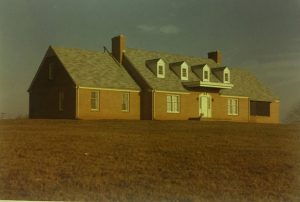 The house is pictured here in early 1969. Note the tar-paper-covered hole where a bay window was planned. It's still not there. 50 years later, this unfinished house is back on the road to completion.
There's a story in there somewhere, you say? Actually, there are a lot of them…
(Visited 16 times, 1 visits today)