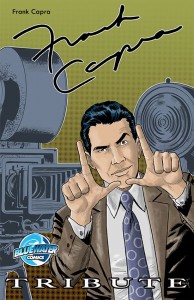 I somehow missed this when it came out in time for Christmas, 2012. In fact, I'm not 100% sure how I stumbled across it last week. Other than their Logan's Run adaptations a while back, I don't read too many Bluewater comics, so I doubt it was a house ad. Alas, that's the nature of the Internet, especially when you're as ADD as I am. Searching for one thing can lead to something you didn't expect, which sets you on a mission. In this case, surfing around for something unrelated brought up a stray reference to a Capra tribute done in comic book form, and I had to find out what that was about. So whatever I'd been searching for was forgotten, and I had to jump on ComiXology and buy this.
Frank Capra is one of my heroes. I have a list of four big personal heroes, and a list of, I guess, "others." Mostly right now the distinction between "big" and "other" is that the "others" are still living, or that their principal body of work falls within my lifetime.
Capra is one of the big four. Why? I think Capra himself summed it up in giving his acceptance speech when he received the AFI Life Achievement Award: "The art of Frank Capra is very, very simple: it's the love of people. Add two simple ideas to this love of people: the freedom of the individual, and the equal importance of each individual, and you have the principle on which I've based all my films."
These words reinforce for me that, though his best-known work has been accused of delving into the language of self-sacrifice and defining oneself by the standards of others, Capra's basic philosophy was one of individualism. Perhaps not rugged individualism, for it is softened by a message of love; but I personally have no problem with that.
(For more of my comments about the themes of Capra's best-known work, It's a Wonderful Life, see my entry "Henry F. Potter, Crony Capitalist.")
There's a lot to like in this tribute. I like the whole idea of the Tribute series from Bluewater, which was created to honor entertainers who are no longer with us, but who had an impact on our lives, our culture and our way of seeing things. This issue begins with a definition of a term probably not used much anymore, outside film schools: "Capra-esque." It then gives a capsule biography of Capra's childhood, coming to the United States from Sicily in 1897 as a small child, young Francesco Capra and his parents wound up in Los Angeles, where his elder brother was already established. He started his career as an extra in a John Ford movie, and, after a brief attempt to run his own production company, wound up working for Harry Cohn at Columbia, the "poverty row" studio, where he become a writer and director.
I did not recall from Capra's own autobiography that his first marriage ended following the death of the couple's child. This story touches on that. But it does not even mention the later death of young Johnny Capra, who died from complications of a simple tonsillectomy, nor the fact that he died while his father was receiving the Academy Award for You Can't Take it with You. Indeed, the Tribute does not mention this Oscar-winning film at all, which is odd. In fact, it leaves the uninformed reader with the impression that Capra and Jimmy Stewart did not work together until Mr. Smith Goes to Washington in 1939. In fact, their first venture together was You Can't Take it With You, which also starred Capra regulars Jean Arthur (Mr. Smith), Samuel Hinds, Lionel Barrymore (Wonderful Life), Spring Byington, Sterling Holloway and Edward Arnold (Meet John Doe).
Also not mentioned is Oscar-winner Mr. Deeds Goes to Town. Nor is the well-remembered Lost Horizon. It's kind of funny that a movie that is given a brief spotlight is The Bitter Tea of General Yen, a straight drama which Capra and Cohn made in 1933 in hopes of creating something weighty and relevant enough to win an Oscar. In one of the great cosmic examples of someone above saying, "Go with your strengths!" "General Yen" was ignored, but the quintessential screwball comedy It Happened On Night scored five Oscars for Capra and poor little Columbia Pictures the following year.
But perhaps the greatest omission is that screenwriter Robert Riskin is not mentioned at all. Riskin gave voice to so many of Capra's characters, writing the screenplays for all of his Oscar-winners, and, with composer Dmitri Tiomkin, serving as one of Capra's most consistent creative partners. It's true that Capra and Riskin went their separate ways after 1940's Meet John Doe, but the close creative and personal relationship is worthy of note.
Still, you can't fit everything into one issue of a comic book, and it's thrilling to see a modern tribute to one of the great talents of American film. You can still purchase the issue, in paper or eCopy, from Bluewater:
http://www.bluewaterprod.com/news/HOLIDAYJOY.php
(Visited 83 times, 1 visits today)