August 15th, 2018
Dear Daddy—
I took this week off to finish the bathrooms so that the plumber can get the sinks, toilets and shower/bath faucets completed in time for the August 20thexpiration of our permit. The plumber assures me that we can get another extension, but I'd rather get it done. There are so many other things to do, both in your house and mine, and I need to move on to them.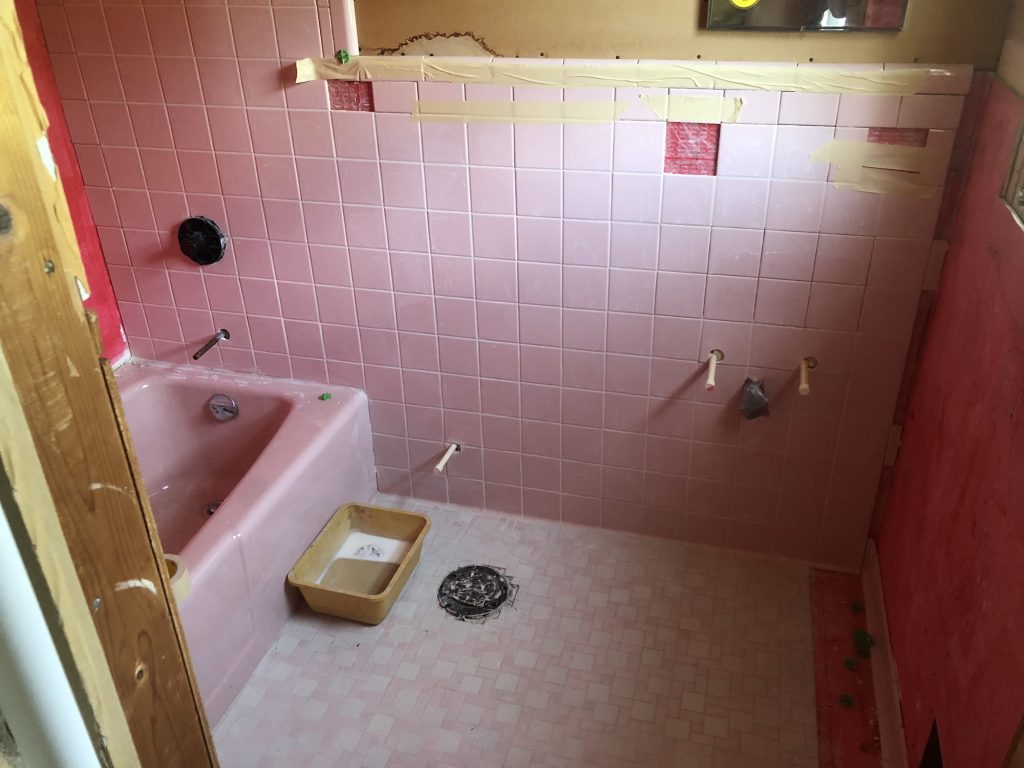 Speaking of other things to do… I have to dig through the attics and general purpose rooms—I've already checked the basement—to see if there's another case of pink tile. I started with six sealed cases of 96 tiles each, plus about 35 loose tiles. Where did the loose tiles come from? There has to be a partial case here somewhere, unless you bought them loose, which doesn't sound like you.
Hey, I can check the invoice to see how much you bought! Must do that.
Here's the problem: I've almost finished the biggest of the four walls, the one with the sink, the toilet and the plumbing for the shower on it. I've used about 225 tiles. I've got three unopened cases and one partial of 82 tiles left, or 370 tiles left. According to your markings on the walls, I need 455 tiles. What the hell? When you finished the beige bathroom, you had tiles left over. When I finished the green bathroom, I had four cases of tiles left over. Granted I didn't do the blue bathroom as extensively as you planned, but I've got at least six cases left of that.
So why, in the only one of the three bathrooms that I've finished that I was going to do the full tile job you planned, am I shy 85 tiles? When you always overbought?
If I can't find or buy tile, I'll have to sheetrock at least one wall, probably two. The only source I've found for Venetian Pink tile so far is a guy on eBay who took apart a bathroom that looked exactly like the one I'm putting together, and he wants $2.99 per tile.
We'll see how that develops.
The chickens are doing well. In twelve days we've gotten thirteen eggs. They should be producing three to four times that, but the legbars are young yet, and the Plymouth Rock (Lady Bracknell) seems a little unsettled right now. I don't think she's laying, because we haven't seen a brown egg in a few days. Christian built a gate in the fence, although it still needs to be reinforced. Right now we're only letting the hens out when we're there with them anyway. It's safer in the coop, and they have a nice little run underneath it that's supposed to be predator-proof. Lady Bracknell lets us pet her and pick her up. The legbars, who are supposed to be a good breed to serve as pets, are still incredibly skittish. If you try to pick one up, she flies in your face. Fortunately, they go into the coop pretty easily if we herd them that way.
The mowing has been a challenge. With all the rain we've gotten, soft, wide-bladed grass grows up to your knees in a week. And, with all the rain, it's easy to go two weeks without mowing. The yard looks a little veldt-like. Our John Deere's front tire wouldn't inflate, so Christian has now had to take it in twice for repair. And yesterday they kept it and said they'd call us. I wish they'd come mow our grass, too!
Mother and I went back to the lawyer and reviewed a care agreement and the new deed to this house. The care agreement protects the house if she ever needs Medicaid, proving that I have, in fact, worked for my share of its value. That may or may not save the house if the state tries to take it. Renee and I are also going to meet with a financial advisor to see how we could swing renovations on our house, the Hunt Club, and pay our fair share for this one, and pay for Christian's college… It's a bit daunting. Renee and I still aren't sure if it's going to work, or how we feel about everything. Can we keep two houses? What will we do with both of them?
The North Carolina deeds are ready to sign. We turned five lots into four, joining two connecting ones for Susan. Charles gets the Chocolate House and the single acre out by the road, and they split the mountain land. Mother plans to sign everything at once.
I think that's all for now. Many possibilities floating out there. Do we build a bigger chicken house and sell eggs? Or chickens? I confess I don't want to be in the business of growing chickens for meat, but I could do eggs and chicks. Do we set up a horse boarding service? What would that business plan look like?
So much to think about. Wish you were here to talk to me about it.
Love,
Steven
(Visited 32 times, 1 visits today)