February 14th, 2018
Dear Daddy —
It's been two weeks since I've written. This past weekend, we held Farpoint, a science fiction convention that Renee and I founded 25 years ago. You attended it once, when it was held on your 74th birthday in 1996. Michael Ansara joined us for your birthday dinner, and was eager to meet you. As I recall, you spent most of the evening discussing either physics or politics with Yoji Kondo. 
Farpoint always dominates a lot of my time, even though I no longer own it, am no longer in charge of it, and this year declined to accept a job on its committee. People still expect me to be a part of it, and people come to me with their problems to be solved. I've learned to accept that, but to try and help on my terms. I feel myself slowing down, after nearly forty years of working at a whirlwind pace. With all that's left to do in front of me, I have no desire to burn out. I want to be here for my children and be here to see my grandchildren.
Speaking of grandchildren, the ones I gave you are amazing. Ethan is working two jobs and running his website, with a new blog (in your day it was called a "column") being published every day. He was in charge of hospitality this past weekend, and even some of our hardest-to-please attendees complimented him. He's hard-working, literate, and, above all, kind. Christian made the Dean's List at Towson his first semester, also on top of a job, and is carrying 19 credits this Spring. He's also rehearsing Othello 20 hours a week. He's determined to complete his Bachelor of Fine Arts in Acting, somehow also get a degree in Astrophysics, and minor in Deaf Studies. I joke that he'll be the deaf community's Neil Degrasse Tyson.
Last night I completed a significant task in the house—at long last, Mother has a working dishwasher and a working garbage disposal!
As with all the other rooms, you purchased everything we needed for the kitchen, except the cabinets. Those you were going to make yourself. Because we had no cabinets, the kitchen sink sat for 40-plus years in Susan's general purpose room, upside down on a stack of oak flooring. The garbage disposal, a Hotpoint, was mounted to it—by you, I assume. The dishwasher, avocado green, naturally, sat for the same length of time in its space in the kitchen, its packing cardboard still inside it, the box of Calgon detergent that used to come with dishwashers still shrink-wrapped and waiting to be used. (And still good, we think!)
I'm sorry to report that the garbage disposal could not be used. You see I installed cabinets and had a countertop made. You had left a 6-foot section of laminate countertop behind the couch in the dining room, and I guessed that was what you wanted in your kitchen. So I ordered that style, pre-fashioned to fit the cabinets. You had also planned to make your own countertops, and I still have the goldenrod-colored Formica you were going to cover them with. Sorry, but some things must surrender to changing styles. The installers mounted the sink, but, without asking me, and without reading the red label which clearly said not to remove certain screws, removed the garbage disposal first. After the red-labeled screws had been removed, it could not be re-installed. They were machine-mounted in the factory. Without them, the thing simply couldn't be synched up to the sink. So the installers bought me a new garbage disposal. Gary the plumber installed it and hooked up the dishwasher.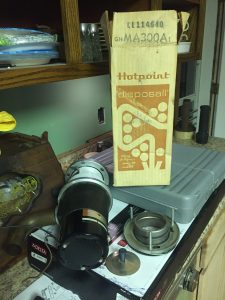 When I went to wire everything up, I discovered that there was no power to the dishwasher. (That was a letdown! I wired it to the junction box and turned it on. We were recording the moment! And… nothing.) The garbage disposal switch was wired in a way you had wired no other switch in this house—with two pieces of Romex cable coming in instead of one. There was only one wire coming through the floor, and it seemed to terminate in the dishwasher junction box. But that had no power. Both disposal and dishwasher, according to the electrical panel, were on the same circuit. The breaker was on, and, amazingly, the switch three feet above the dishwasher had power. What had you done? 
I had to cut a hole in the newly-installed cabinet to access the dishwasher's junction box again. I had run the line to the dishwasher before the cabinets went in. I thought I was being smart. "Smart" would have been checking the line voltage after I had run the line. Oh well. All I could figure was that you were planning to use that two-tailed switch in the wall to passively send power to the dishwasher. So I surrendered and called an electrician. 
Stephon, the electrician, was as baffled as I was. He explained that a dishwasher should have its own circuit. He traced the wire that was coming through the floor to its box. It was dead. When we checked the electrical panel, I pointed to the wire going through the side that I thought was it. He shone his flashlight up into the basement joists, and—dammit! There was the dishwasher line, coiled and labeled, "Dishwasher" in your handwriting on a piece of masking tape. 
I felt stupid, but it was worth the money to get a second set of eyes. Stephon wired the line to a free breaker—you had installed four breakers that were not yet in use. He connected both appliances, and we tried them. I had no concern for the garbage disposal, but, well, my avocado friend was almost as old as I was and had never been run. Would its dry-rotted hoses gush water all over the new kitchen floor? Would it burst into flames? Would it do nothing? And, if it ran, would it be so loud that we'd need hearing protection? 
No to all. It started up, it's not too loud, and it ran a full cycle without leaks or sparks. (Yes, I know, failing equipment does not shower sparks—I watched enough Voyage to the Bottom of the Sea with you in the room to know that.) Your fifty-year-old dishwasher runs like a champ. A lesson for all of us who wonder if age brings obsolescence. 
Now I wonder… will it clean dishes?
—Love,
Steven
(Visited 150 times, 1 visits today)