October 10th, 2017
Dear Daddy—
I've had a hard time finding time to write lately. We've done a lot of work in the house over the weekend, and, even though it was a long weekend, and I've actually taken this week off, life fills to fit the available free time. You knew how that was, I know. But, in and around work, doctor's appointments and shuttling Christian to and from school, we are making progress with the house. I spent what time I could today building the shelf to hold the sinks. I decided to tile the countertop (it turned out to be a very small space, once the holes for the sinks were cut yesterday!) using the mosaic tile you had bought for the floor.
I brought a section of it out (photo) to show Renee and Mother and ask their opinion. Mother exclaimed, "Oh, Steven, that's pretty! Now, where does it go?"
"Right now, it doesn't go anywhere," I said sadly. "It was for the blue bathroom. I didn't know we had it when it came time to tile the floor. But I thought it might make a nice cover for the countertop."
Renee even agreed it was very pretty. Mosaic tile is very popular right now, although people go more for glass than ceramic. Renee doesn't often care for the obviously 1960s style of a lot of the house fixtures, but she liked this.
So the bathroom's almost done. As I mentioned in a previous letter, so are the kitchen countertop and the furnace.
Let's talk about the furnace. I don't think you would be happy about what we decided to do, but we didn't have a very good alternative.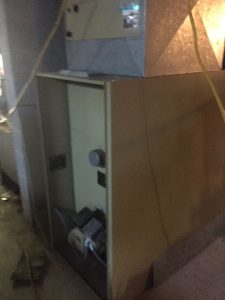 In 1968, you purchased an American Standard furnace. Mother remembers the deliverymen rolling it into the basement, and then a man from Laurel coming in to install the air ducts, which you had designed. As I mentioned, your original drawings are still with me. We found them, rolled up in a tube, while cleaning out Mother's office a couple of weeks ago. You ran the 110-volt shielded power cable from the switch box to the furnace, about 75 feet away. You wired thermostat cable from a box on the front hallway wall to the basement, and left it coiled up in the ceiling. You ran the refrigerant lines from the air conditioner coil above it to the concrete pad outside where the compressor would sit. Did sit, actually, for at least 35 years. You had an oil tank delivered and placed on the concrete slab of a shed which we've always called just, "The Building." You built "The Building" by hand. You and Mother also dug, by hand, the trench in which the copper oil lines were buried and run to the basement of the house, at least 300 feet away. You eventually had a second oil tank delivered and connected.
And then you stopped.
I'm not sure why you stopped. I recall that you weren't quite happy with the air conditioner coil. I remember it sitting on our breakfast table for quite some time while you looked at it. Later, you moved it down to the basement and moved it from one table top to another, eventually moving it up high onto a ridiculously large printer cage, made of fiberboard, that you insisted on keeping.
We had a Sears oil stove (still have it) that sat in the living room for a while after we first moved into the house. Its stack was run into the East chimney. I guess we had the oil tank already, and just carried oil to the stove? I don't remember, and neither does Mother. But, soon enough, because you decided you weren't ready to hook up the furnace, you moved that stove to the basement, on the opposite side from the furnace and installed it there. It was quite an elaborate install, with a flue pipe added to the base of the West chimney. (Did you always intend to have a heat stove on that end of the house? I bet you did. You had always planned for the first floor of the East wing to be an independent apartment. You were probably hedging your bets to allow it to have its own furnace.
That oil stove heated our house for the next 45 years. You ran the excess oil line for the furnace as far as it would go, about ten feet shy of the oil stove. Then, rather than buying another ten feet of oil line, you bought a faucet.
A faucet. For 45 years, we filled empty milk jugs from that faucet and poured them into the reservoir on that stove. It was just one of the daily chores. We filled five gallon jugs in the morning, and five more in the evening. It was cold in the basement in Winter, so whoever was on duty would sit in the West room, the stove room, with the door closed to keep warm. We would set a darkroom timer (purchased because the house was designed with its own darkroom) for about seven minutes, and read or play solitaire while a jug filled. In extreme cold, a jug could take 20 minutes, but you set the time for short increments. Woe betide the Wilson child who let fuel oil overflow the milk jug, even though our baby bathtub was under the jug to catch overflow. I don't know how often it did catch overflow, nor how often one of us surreptitiously funneled that into a jug and mopped out the tub with paper towels so you wouldn't know. It was probably fairly often.
When I think back on that chore, I suddenly realize who different, even eccentric, our lives were. All that effort on putting in a furnace, and then on installing a stove, and then more than an hour a day, sometime three hours or more, spent putting oil in jugs like stokers feeding a coal furnace. Not an odd scenario, perhaps, in rural America; but this was a seven-bedroom house with its own darkroom, in one of the richest counties in America.
I hate to break it to you, Daddy, but we're pretty strange.
Love,
Steven
(Visited 13 times, 1 visits today)