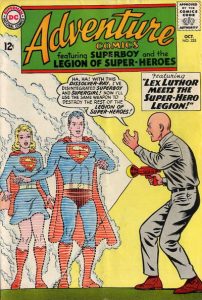 This is an example of a fun Jerry Siegel story, with no glaring plot holes or scientific gaffes. The plot is straightforward: a teen Lex Luthor (with a full head of hair) comes forward in his "time cylinder" to meet his idols, the Legion of Super-Heroes, whom he's observed on his timescope.
Okay, it's not a scientific gaffe, but it does defy belief that a teen Lex Luthor created two devices that it took the rest of the human race 1,000 years to develop, as witnessed by the fact that they're still considered pretty rare and nifty in the Legion's time.
The Legion quickly realize that this charming, innocent boy, who has saved Triplicate Girl and Matter-Eater Lad from death at the hands of the inhabitants of the planet Khann! (established as a penal colony by the William Shatner fan club, no doubt), is actually Lex from before the time that his hair fell out, resulting in his conversion to villainy.