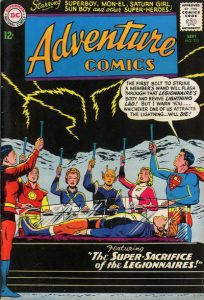 He's aliiiiiiiiiiive!
Well, he is by the end of the story. Seven months after his death, and after many, many dropped hints, Lightning Lad returns to life in this issue. With Mon-El returning from his native world of Daxam, bringing the sad news that his people's technology cannot restore the fallen Legionnaire, the Legion becomes obsessed with finding a way to restore life to a boy who was quick-frozen to death. They consult their library and find every reference to every technique known for restoring life. You might think they'd have done that earlier, but I guess they were busy.
Is it just me, or does the rocketship clubhouse look way too small to have a library this size, much less the meeting room they're always showing?