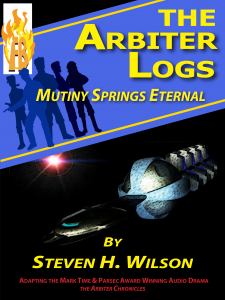 Hey, it's Balticon weekend and this sale is still on! Thanks to the many who've attended my panels and stopped by to chat thus far!
Thanks to all who attended our "Fantastic Quartet" presentation at the Howard County Library (as well as those who were there in spirit… deadbeats!) Howard Weinstein, Bob Greenberger, Dave Galanter and I were all pleased to see every seat filled, and additional chairs being added by the event organizers throughout the evening. We were proud to kick off HCL's "Meet the Author" series. We've already been asked to return next year!
As an offering of thanks, I'm offering some discounts on my eBooks. Mutiny Springs Eternal is even free, and it's a great place to jump on board my award-winning Arbiter Chronicles series. Just click the links below and enter the corresponding coupon code to purchase the eBook from Smashwords. They're available in every eReader format, including Kindle, Nook and iBooks. Let me know if you have any problems!
FREE! The Arbiter Logs – Mutiny Springs Eternal – Coupon Code: ZH77W
99 Cents! Peace Lord of the Red Planet – Coupon Code: TC75G
99 Cents! Taken Liberty – Coupon Code: WC32M
99 Cents! Unfriendly Persuasion – Coupon Code:  SS94B