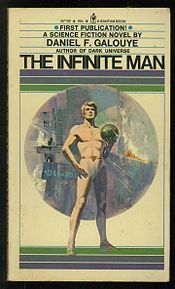 There's nothing more disheartening for a writer than to read something published by a major house and think, "I can write better than this!" That's especially true for a writer whose collection of rejection notices exceeds his collection of pay checks for work sold. (Isn't that most of us, though?)
Oh, yeah, there is something more disheartening… having that work be authored by someone that one of your literary idols thought was a real talent.
I picked up a couple of books by Dan Galouye because he's mentioned, in Robert A Heinlein: In Dialogue With His Century, as a writer whose work the Grandmaster really admired.
RAH must have read something by Galouye other than The Infinite Man.