March 27th, 2018
Dear Daddy –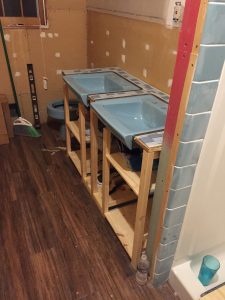 Aside from doing the joints and painting the walls, the blue bathroom is finished. All the plumbing and electrical are in place and working. I had a little snag this weekend, as I finished the electrical work. I once again had it rubbed in my face to check line voltage before putting in drywall. I think I get it now. Hopefully I won't have to be reminded a third time. 
You had left two wires dangling down from the attic, inside the wall on which the sinks were to be installed. I knew one was for the light fixture which you had already purchased way back in the day. What was the other? I assumed it was for an outlet.
Of course, as I think I've mentioned before, there was no room for an outlet over the sinks. You had purchased a mirror that literally took up the entire wall over the counter, from just below the 16" allowance for the light fixture, all the way down to the 32" standard height of the countertop. I guessed that you had been planning to shift the outlet either into the shower wall (sounds dangerous!) or over the toilet (not much better.)
I should have known you better. In fact, I do know you better.