October 4th, 2017
Dear Daddy—
Today is your 95th birthday. I know you wanted to see it, and more after it. I can't say that I wish you had seen it, not in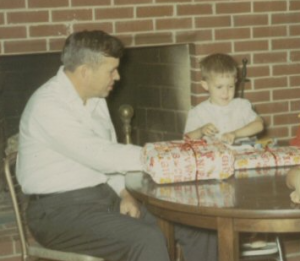 the state you were in those last few months. But I wish you have lived as long as you wanted to, and that you could have enjoyed living. I guess that was the problem with those months—you weren't enjoying them. I don't think you were enjoying anything.
I took you to the doctor in January, after you'd spent three or four days of Christmas week in the hospital. We knew you had a failing aortal valve in your heart, a condition called aortal stenosis, where the valve becomes to stiff to open and close the way it needs to. We knew you were not a candidate for surgery. We did not know, until that day in the doctor's office, that you had so little time left.
When your new doctor explained to us that your life expectancy was six to twelve months, I wasn't sure what I felt. I looked at you. So often in the past I looked at you to give me the answer, to tell me how I should feel, to tell me how we were going to get through this. I knew that, this time, when I looked in your eyes, I wasn't looking for those answers. I was only looking to see how you felt about being told you were about to die.
And when I saw you, I knew how I felt. I knew my heart was breaking. I had picked you up and driven you here. I had put on your flannel shirt, buttoning the cuffs exactly the way you liked them, tied your shoes, zipped up your coat and placed a step so you could get into the car. It was like getting a toddler ready to go somewhere. It was like bringing an innocent, frightened child to the doctor, to be told he was going to die.