So last week I took some well-deserved shots at Marvel's self-serving list of their 75 greatest comics, comic storylines, and graphic novels, published in their 75th Anniversary Magazine. Supposedly, the list was voted on by fans. If that's true, I'm very disappointed in what's left of Marvel's fans. Anyway, as promised, here's my picks for 15 of Marvel's greatest.
A few of these are just personal favorites. But largely, I feel they represent the building blocks of the Marvel Universe, the foundation of all that came later. The modern creators who dub themselves "architects" (when perhaps they should merely be called "remodelers") stand on the shoulders of giants. Without these stories below, and many others like them, all the shocking character death, all the sudden moral reversals and changing of heroes to despicable villains, all the experimental water color art and all the boring nine-panel grids of the same two characters in the same positions with the same expressions, could never have seen the light of day. For their highly referential presence would refer back to nothing.
There is no order of importance here. They're just chronological.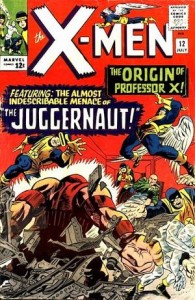 X-Men 12-13 (7/65,9/65) "Who Can Stop the Juggernaut?" Okay, actually its first part was titled simply, "The Origin of Professor X." Either way, it's the scariest comic I've ever read. Cain Marko is not seen in his mutated form until the last few panels. Instead, like the Alien in Alien, he slowly stalks the mutants throughout the issue while Professor X explains his history and tells the teen heroes just how truly f____d they are. I kid you not, I had nightmares in fourth grade. Continue reading →