"The Five Legion Orphans" was only 12 pages long. To fill the rest of the book, one would expect that perhaps a new Superboy adventure would have been commissioned. Perhaps another outing by Otto Binder, who had given us "The Six-Legged Legionnaire" last issue. What we got, instead, was the closest Silver Age readers were going to get to an explanation of why Star Boy first appeared with powers identical to Superboy, and, when he showed up again after missing 19 Legion adventures, was suddenly equipped only to make things super heavy.
The explanation comes in a text box added to the last panel of 356's reprint of "Lana Lang and the Legion of Super-Heroes," a story written by the aforementioned Otto Binder.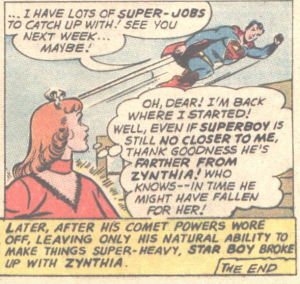 A note on the Grand Comics Database entry for this reprint says that Star Boy was "partially refried from Adventure #195." Partially refried? Like the beans?