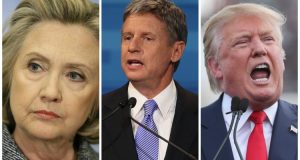 I wrote this piece prior to the release of Donald Trump's coarse remarks, made while he thought his mic was off, revealing his base attitudes towards women. I'm not a bit shocked by his remarks, because I knew that this was exactly the kind of person he was. But I understand that, for a lot of people, these remarks were the last straw. They serve as a wake-up call, making people realize that this guy just should not even be allowed to run for the office of President. I've re-read and tweaked my piece. I still believe in what I said, because, again, I always saw Trump as a misogynist asshole. The stakes are higher now, though, because the revelation of Trump's "sins" was timed in just such a way as to discredit his candidacy after it was too late for the GOP to recover.
You cannot condemn Donald Trump's selection as the GOP Nominee and embrace the two-party system as it exists in the US.
That is, you can't if you want to be honest and consistent in your political philosophy.