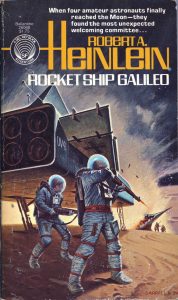 I've waited many years to read this one. I began reading Heinlein (with The Star Beast) in 1981. I've read most of his work, and, indeed, broke down this year and treated myself to the Virginia Edition, leather-bound copies of all of Heinlein's work, including non-fiction articles and screenplays.
But this, his first novel published in book form, and the first of his juvenile novels, was a book that I'd always heard was badly dated and not as entertaining as his others. Now that I've finally read it, I disagree. Rocketship Galileo is as captivating, speculative and amusing as any Heinlein adventure (although Starship Troopers was rarely, if ever amusing. That one came from a dark place within the Grandmaster.)
It's called "dated" less because of the naiveté of the idea that the first expedition to the moon would be the result of a contest for inventors–and particularly teenaged inventors–and more because the villains are–wait for it–Nazis.