CHAPTER FOUR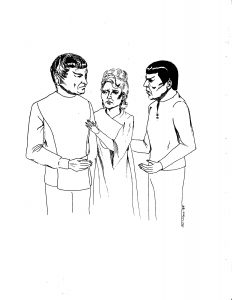 The central living area Sarek escorted Terry to was not what he would have expected of Vulcan living. Onboard ship, Vulcans tended to be rather spartan in their decor. This room, in fact. the whole house, showed a human touch—specifically a feminine one. Obviously, Amanda had had a hand in the decorating. 
Once inside the central room, however, Terry didn't find himself noticing walls or floors or other things inanimate. Around him were anxious faces, most of them with a touch of sympathy in their expression. Captain Scott, Dr. McCoy and Commander Uhura sat casually on the large couch in front of him. In nearby chairs, facing one another, were his commander, Hikaru Sulu, and a man he assumed to be Pavel Chekov. 
Sulu smiled at him in greeting, as did Uhura and McCoy. Could they see how nervous he was? Were they offering him a vote of confidence? Perhaps they wanted to remind him that they were old friends and teachers as well as criminals he'd been sent to arrest. He remembered.